NOTE: We're doing FREE TRIALS for Exodus. Email me Flybroker at gmail.com for access
I intend to repost some of the old classics, such as CAP SUCKS HIS OWN COCK saga. It all started on October 23rd, 2008. The gang and I were in heated conversations inside the comments section of my blog. Back in those days, pre Twitter, the comments sections of my blog were brimming with conversation. It was the hay-day of blogging, the very peak of when it all was good and righteous. Anyway, sandwiched in between the always bullish Henry Fool, CAP offered to suck his own dick should the market rally on that very day — a day which saw the the Dow down 800 points at the lows and the Nasdaq off by nearly 5% with less than an hour left of trading.
Cap, being the bold man he once was, took the opportunity to stifle all of the rally talk in the comments section, in an effort to demoralize us with an outrageous claim of being willing to suck his own genitals should the market close higher and reverse the heinous losses.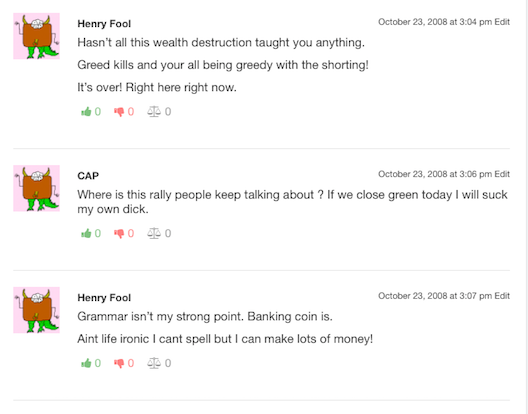 What proceeded to unfold afterwards shall forever be remembered in iBC lore, the day when the Gods read the iBankCoin comments section and forced a man named CAP to suck on his own penis by making stocks go on a miraculous run into the close.
It begins.

I positioned myself against CAP, gunning for a rally.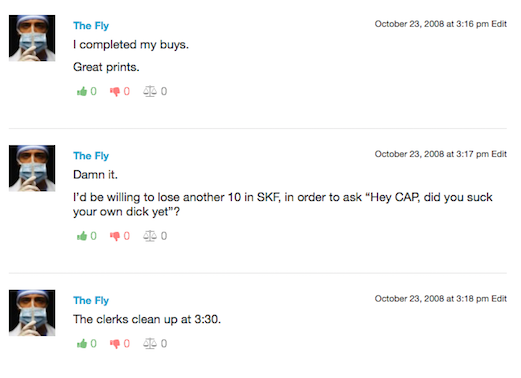 The taunting continues.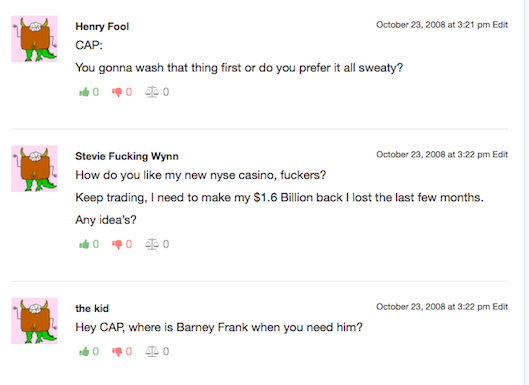 By 3:25, the signs were everywhere. It was happening.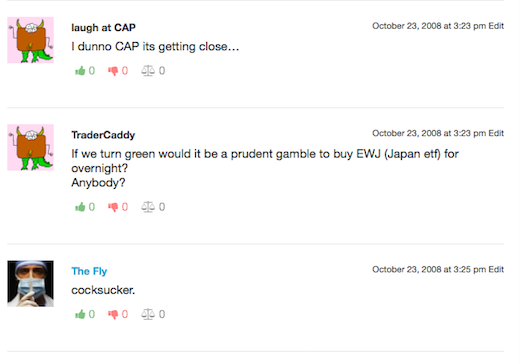 The Nasdaq was down 3% at 3:30.



Markets were looking dour again and it appeared CAP might escape a horrible end.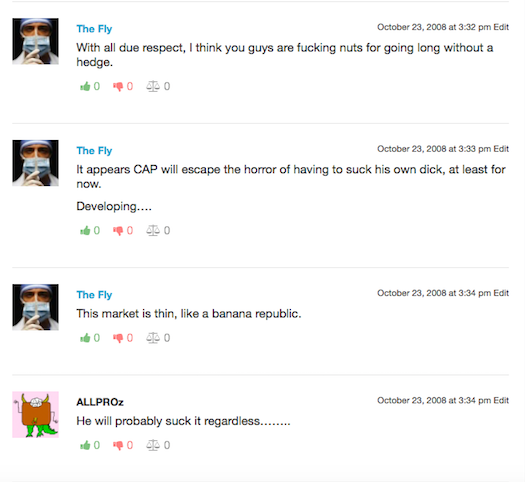 By 3:38, markets started to rally hard. CAP's fate was again in the balance.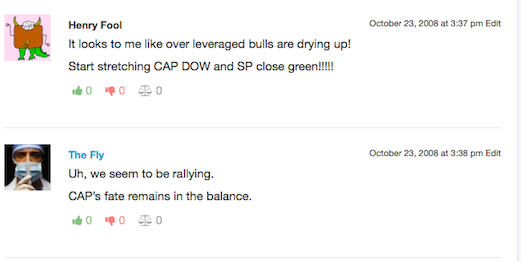 By 3:44, the market was green and CAP offered a mea culpa, admitting to making a horrible mistake. But it was too late, for it was sealed, and it he needed to suck his own cock.


Commenters began to thank CAP for his sacrifice, believing it helped buoy markets higher.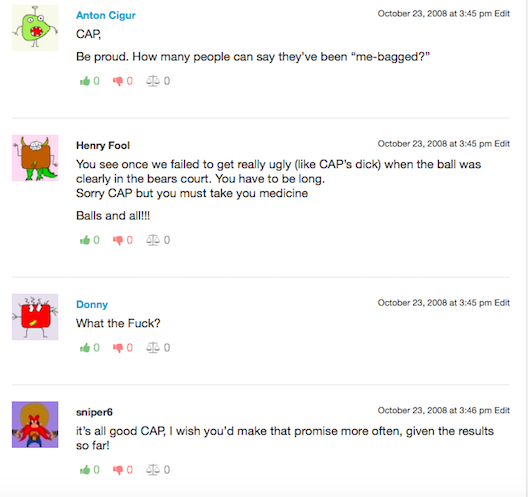 The legend of CAP began.




CAP believed the Gods smited him. Indeud.


DEVILDOG APPEARS. For those of you unfamiliar, he was my nemesis, the biggest bear who ever lived. I even did a series of animated cartoons starring him. I will begin the series with this post.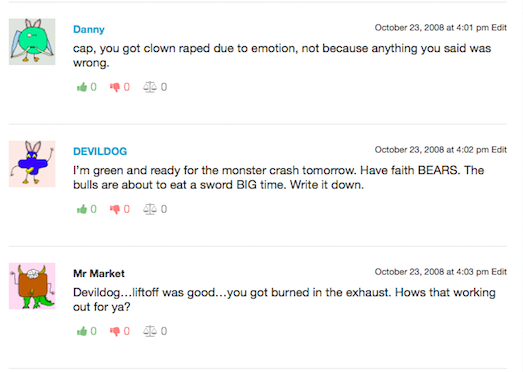 INDEUD.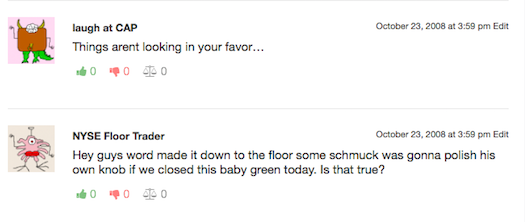 Here is parts 1 and 2 of 11, a series that starred me, SAMSONITE HAMBURGALAR, DEVIL DOG and my assistant SAM FRIES.
Enjoy.
If you enjoy the content at iBankCoin, please follow us on Twitter