Instead of watching everyone else get high, floating around Main Street stoned, I decided to borrow a hypodermic needle and inject some pure opium into my muscular arms. Gone are the days of Fly shitting on the blockchain, chalking it up to 'nothing more or less than a red faced scam, purported by fuckbags for the purposes of getting liquid.'
Instead of fighting this "trend", I am joining you and I am now one of you — both an entrepreneur and a wastrel. I cannot lose.
I bought the shares of consummate crybaby, Patrick Byrne, aka Overstock.com — because of their exposure to the MUH blockchain.
"It is encouraging to see legacy financial services acknowledging the potential of the blockchain to disrupt and transform the financial services industry," Forte said. "This is adding further fuel to the Overstock fire as investors [see the company's] early stage investments in blockchain."

Over the last three years, Overstock's CEO Patrick Byrne has quietly developed a blockchain-focused division of the company called Medici Ventures. The unit's majority-owned subsidiary tZero has emerged as a front-runner in applying blockchain technology to trading stocks and digital coins.

Long-time short seller Marc Cohodes first heard about Overstock's blockchain investments in May. He then visited Byrne in June, the first money manager to do so in a decade. The meeting turned Cohodes into a buyer of the stock.

"You're not paying anything for blockchain and you're getting retail at a steep discount," the independent investor said in a phone interview last week. "I think the stock's going to go to $100," or 230 percent above Monday's close.
I stepped in and made my first investment in the MUH blockchain, buying $OSTK. Live shot of me buying it. pic.twitter.com/8jcAljpXew

— The_Real_Fly (@The_Real_Fly) October 20, 2017
Pray tell me, with this sort of logic and facts, how can I lose?
Friday bonus. A very rough raft of one section of Chapter 2 of BUST, part 2 of 3 of my series documenting the dot com boom and bust.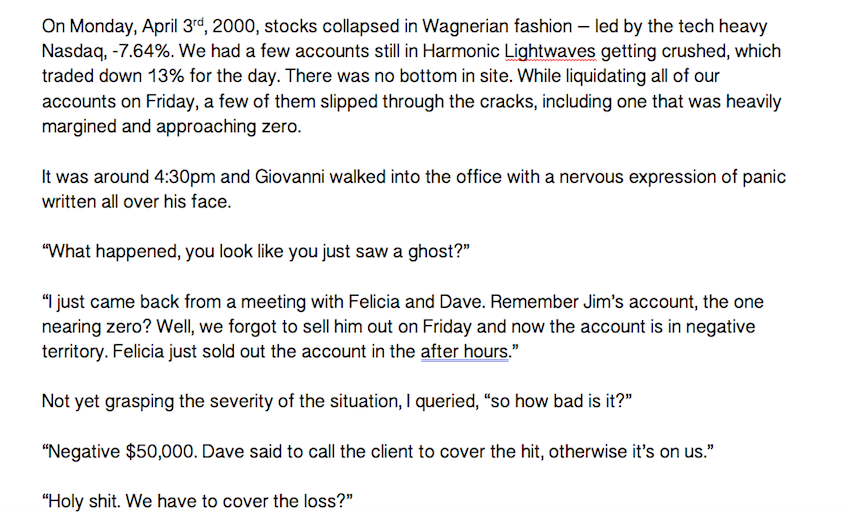 If you enjoy the content at iBankCoin, please follow us on Twitter