Sneakerheads have been destroyed, finally.
Last year I discussed a generational short surrounding around the idea that demographic trends do not correlate with $200 sneakers. Companies like $FL and $NKE have been stealing from people, more so than ever, for the better part of the past 30 years — retailing cheaply made sneakers for hundreds of dollars to an client base that car scarcely afford it.
This was the crux of my idea — short FL.
This company caters to an urban audience, whose median incomes have gone nowhere over the past decade. However, the price for their ridiculous, made in a Vietnamese Thai sweatshop, sneakers have soared. Some of these rubber shits sell for upwards of $200 now. It doesn't take a genius to figure out this dichotomy between price point and target customer is unsustainable.

Since 2012, the market has assigned a very premium valuation to FL, more than 40% higher than historical averages. Yet, looking at today's earnings, growth is slowing.

These chickens came home to roost on Friday, with a disastrous 28% decline in the shares of FL.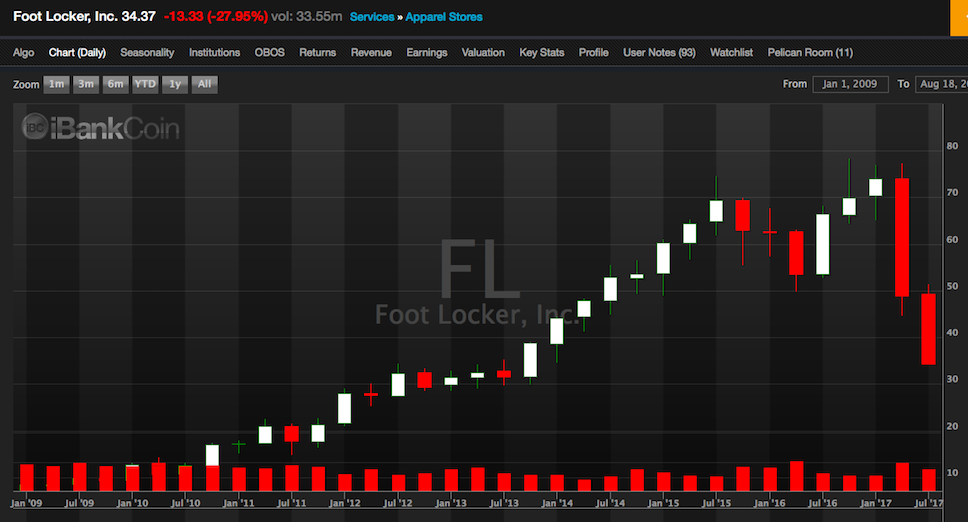 Foot Locker (FL -27%) is getting crushed after reporting a dismal quarter and guidance for the rest of the year. Adjusted earnings fell 34% to $0.62/share as comps fell 6% during the second quarter versus guidance for a low-single digit increase. May comps fell in the low-single digit range and June and July comps fell in the mid-to-high single digits. This was the first negative comparable store sales from the company since 2009.

After claiming a niche with 'sneaker heads' and posting impressive same-store growth for many years, reduced traffic at malls has finally caught up to the company.

"While we believe our position in the market for premium sneakers remains very strong and our customers continue to look to us for compelling new athletic footwear and apparel styles," said Richard Johnson, Chairman and Chief Executive Officer, "sales of some recent top styles fell well short of our expectations and impacted this quarter's results. At the same time, we were affected by the limited availability of innovative new products in the market."
Management said that it is still well positioned as the market leader in premium footwear and probably still gaining market share. The company does not believe vendors selling 'lower priced', 'un-differentiated' shoes on Amazon (AMZN) are a big threat because FL is at the high end of the market. Exclusive releases are an important competitive advantage.

Still, investors have reason to be concerned because Foot Locker's biggest vendors: Nike (NKE), Adidas (ADDYY) and Under Armour (UAA) are all ramping efforts to sell direct to consumers (DTC) on their own websites.
Foot Locker said the Jordan brand slowed considerably during the quarter. That was the first time we can recall anything negative uttered by FL about the Jordan brand, which has been a cash cow for Nike.

Foot Locker guided EPS for the second half of the year down 20-30% year-over-year with comps down 3-4%. Estimates had called for EPS growth in the low to mid-teens and comp growth north of 3%.
Footlocker just found out the fact that 'sneaker heads' do not have unlimited resources and can barely afford their opulently priced footwear, especially with wages going nowhere for middle class normies.
The stock was downgraded across the board. Well Fargo lowered the estimate to $37.
Here's more details on the quarter.
Foot Locker On Call sees second half EPS -20-30% vs prior expectations of +13% (47.70)
Sees Q3 gross margin down 230-250 bps to 31.4-31.6% vs. 33.8% consensus; Q4 down 150-170 bps to 32.0-32.2 vs. 33.8% consensus

In North America, Sell- thrus of Jordan models 'slowed considerably' compared to historical rates
The co had planned for Adidas superstar and Stan Smiths sales to be down 'substantially' in Europe, but says this market declined even more than expected

Doesn't feel like they are losing market share in athletic apparel

Expects some of the trends in Q2 to persist through the remainder of the year

Cites store events, customer experience/interaction w/ retail associates, and ad placement/notification as reasons it does not believe its vendors selling product directly on Amazon is an imminent threat.

Says for lower priced, largely undifferentiated product', amazon (AMZN) and other retailers are taking market share

Foot Locker on call

Jordan (NKE -4%) slowed considerably in North America
Valuation wise, the company isn't too overpriced anymore, compared to historical trends. A 50% drop over the past year, with flat sales, tends to have a corrective affect on overvaluation. Currently, the company is valued at 0.81 on a price to sales basis, slightly above the 0.70 historical median. When I penned my short idea last year, the price to sales ratio was 1.30.
Other sneaker retailers, more affordably priced, include GCO (0.18), FINL (0.26) and SCVL (0.29).
This was the last bastion of retail unfazed by the depression sweeping across the retail landscape in America. In 20 years from now, it looks like all of these stores will be Amazon depots, or repair shops for Amazon delivery drones. There is absolutely nowhere to hide in retail, a fact that has yet to affect the market and the economy.
If you enjoy the content at iBankCoin, please follow us on Twitter