Regional southwest banks were the darling of regional bank stocks for the past 5 years, until now. As the entire state of Texas descends into a Saudi induced hell, so are its banks.
For the year, the regional southwest bank sector is down 14.2%, with gargantuan losses in TCBI (-34%), CFR (-27%), PB (-27%), BOKF (-23%) and IBOC (-15%).
Both TCBI and CFR are paying big dividends, with yields edging towards 5%. Back in 2013, TCBI was trading at 2.2 book value, now just 1.05.
CFR, which is the poster child in all of this, is now trading under book value (0.98)–something not even seen during the financial crisis of 2008.
As a group, the sector is trading 1.09x book, a discount to the financial sector. Since 2005, southwest banks have consistently traded at a steep premium to the rest of the sector.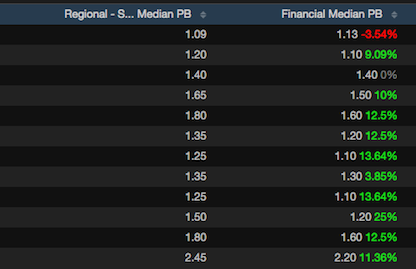 Does this look normal to you?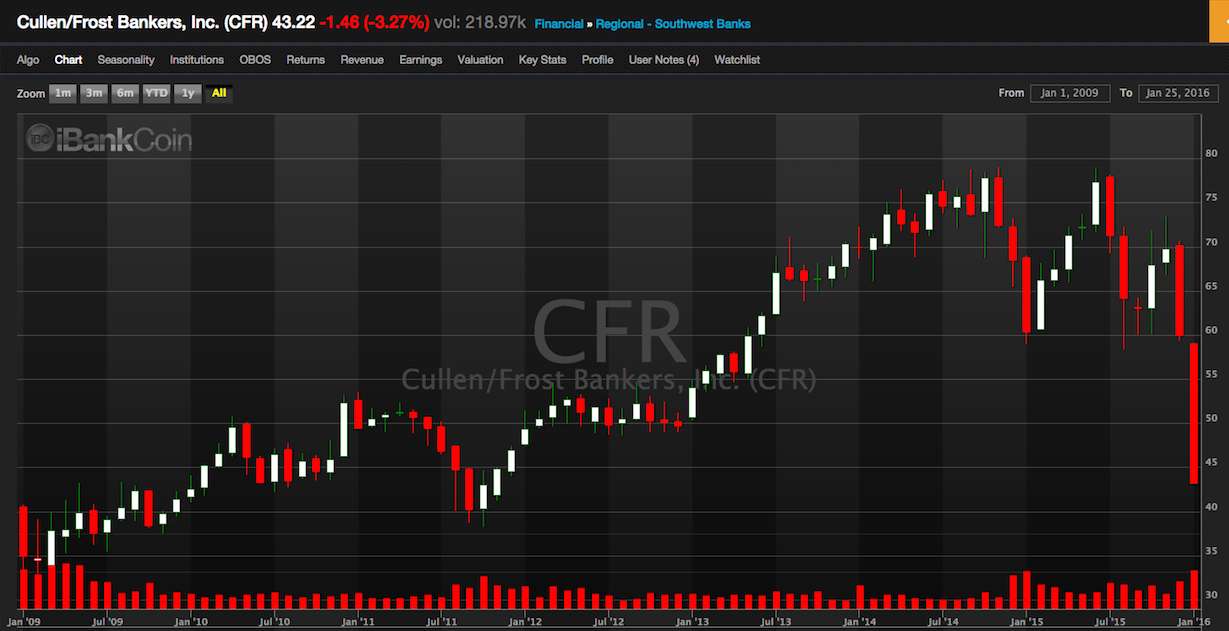 But don't worry, CEO of CFR, Dick Evans, former Fed head at the Dallas Fed, says "The economy in the state of Texas is strong." And, they can handle $37 crude.
Let's see how Dick's stress tests work out with $25 crude.
UPDATE: The Dallas Fed just came out with some really bad economic stats for the state of Texas. The worst general business activity since 2009.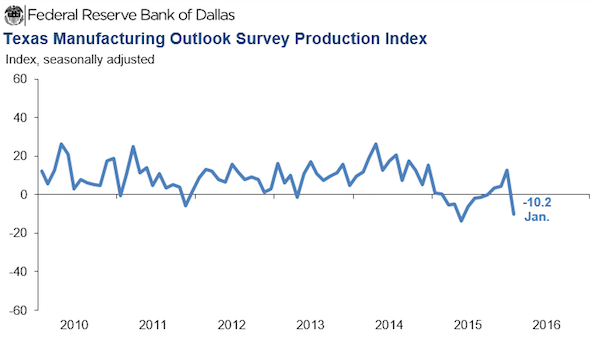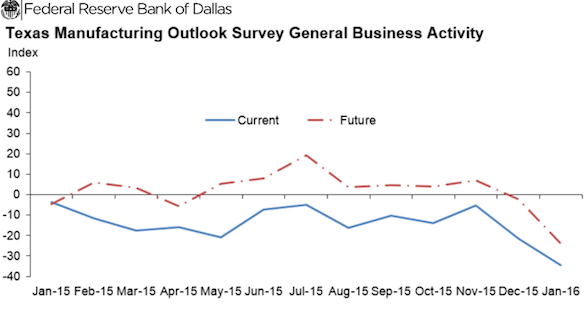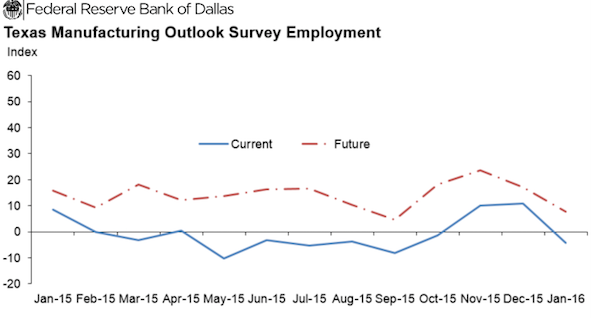 Texas factory activity fell sharply in January, according to business executives responding to the Texas Manufacturing Outlook Survey. The production index—a key measure of state manufacturing conditions—dropped 23 points, from 12.7 to -10.2, suggesting output declined this month after growing throughout fourth quarter 2015.

Other indexes of current manufacturing activity also indicated contraction in January. The survey's demand measures—the new orders index and the growth rate of orders index—led the falloff in production with negative readings last month, and these indexes pushed further negative in January. The new orders index edged down to -9.2, and the growth rate of orders index fell to -17.5, its lowest level in a year. The capacity utilization index fell 15 points from 8.1 to -7, and the shipments index also posted a double-digit decline into negative territory, coming in at -11.

Perceptions of broader business conditions weakened markedly in January. The general business activity and company outlook indexes fell to their lowest readings since April 2009, when Texas was in recession. The general business activity index fell 13 points to -34.6, and the company outlook index slipped to -19.5.

Labor market indicators reflected a decline in January after exhibiting strength in November and December 2015. The employment index dropped from 10.9 to -4.2, with 17 percent of firms noting net hiring and 21 percent noting net layoffs. The hours worked index plummeted 23 points to -9.2, suggesting a sharp pullback in employee hours.

The survey's price measures remained negative in January, but wages continued to rise. The raw materials prices index has been negative for seven months and held fairly steady at -8.6. The finished goods prices index has been below zero for more than a year and moved up from -15.5 to -9.6 this month. Meanwhile, the wages and benefits index stayed strongly positive but dipped from 20.2 to 16.5, suggesting a smaller rise in compensation.

Expectations regarding future business conditions weakened notably in January. The index of future general business activity fell 22 points to -24, and the index of future company outlook fell to -1.3, its first negative reading in nearly seven years. Indexes for future manufacturing activity generally declined but remained solidly positive.

The Dallas Fed conducts the Texas Manufacturing Outlook Survey monthly to obtain a timely assessment of the state's factory activity. Data were collected Jan. 12–20, and 118 Texas manufacturers responded to the survey. Firms are asked whether output, employment, orders, prices and other indicators increased, decreased or remained unchanged over the previous month.
If you enjoy the content at iBankCoin, please follow us on Twitter