Instead of regaling you with tales from the House of "ElizaMae" aka: The Infirmary, lets speak for a moment about the current state of affairs on the stock exchange and how it relates to my portfolio.
Last winter I missed out on the incredible move in AAPL…errrr the stock exchange, from October – March.
In 2013, I was not to make the same mistake.  After "solving" the fiscal cliff, the only trade was to go long.  To my detriment (in performance only), I have remained relatively cash heavy throughout this perpetual melt up.  Not out of being defensive mind you, rather because I was implementing a new strategy and am waiting for the setups to come to me.
As an aside,  I think "paper trading" is a bunch of baloney (aka "jumbo", for those of you familiar with the Western PA colloquialism).  You can never experience the pain of losing through paper losses.  If you have ideas, start with small positions to test your theories.  Make sure that you can scale them into larger positions should they prove to be successful.
Leading back into commentary about my portfolio, this is the essence of why my cash has been "heavy" and my positions "light".  Granted, it is not difficult to gain confidence when EVERYTHING goes up every day.
I am 100% sure there are new geniuses anointed amongst the pikers on Twitter each and every day with their epic "calls" of market winship.
Nevertheless, we have been in the sweet spot for a while, my only hope is that my fellow compatriots here have benefited from this incredibly easy market and can realize some gains.  It won't last forever, so "get it while the gettin's good".
Some notes regarding my positions: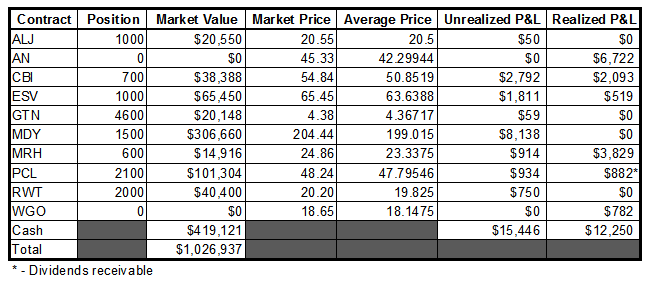 -EM