Just before the trial of Twitter v Musk began, Elon changed his mind again and is now willing to proceed with the deal. This is humorous, especially since I am fairly certain the braintrusts inside Twitter did not see this coming. What they likely thought would happen was a long trial in which they'd win and then get to SEIZE Elon's Tesla stock and ruin him. Instead, they get to lose their jobs once Elon gets in.
Musk is offering $54.20, the same price he offered many months ago.
Last night Elon had the audacity to propose an amateur way out of world war 3. This is what he said.
Ukraine-Russia Peace:

– Redo elections of annexed regions under UN supervision. Russia leaves if that is will of the people.

– Crimea formally part of Russia, as it has been since 1783 (until Khrushchev's mistake).

– Water supply to Crimea assured.

– Ukraine remains neutral.

— Elon Musk (@elonmusk) October 3, 2022
— Elon Musk (@elonmusk) October 3, 2022
This got all of the Ukraine flag blue check marks choking up with rage, even drawing Zelensky and one of his cabinet members out to tell Musk to fuck himself.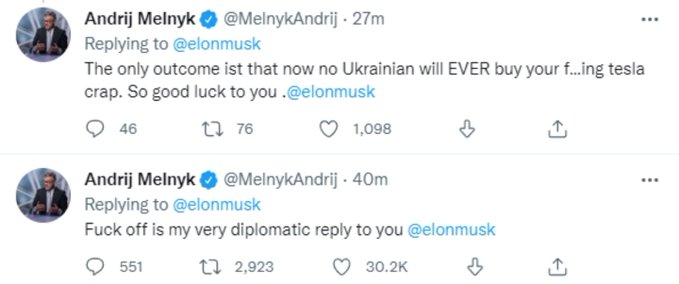 I have admiration for what Musk has achieved but I'm not a fanboy and do not place him on a pedestal. I also do not believe he'll make substantive changes once inside Twitter, since people like Musk (elite) tend to become assuaged by people who really control things.
Nevertheless, it makes for fun theatre.
If you enjoy the content at iBankCoin, please follow us on Twitter