The Quant fund inside Stocklabs rebounded by 10.5% in July, thanks to its heavy overweighting of the oils. This has been the case, long the oils, since the beginning of 2022. Much to my surprise, the quant is moving away from commodities for August and its allocation will be in the following industries.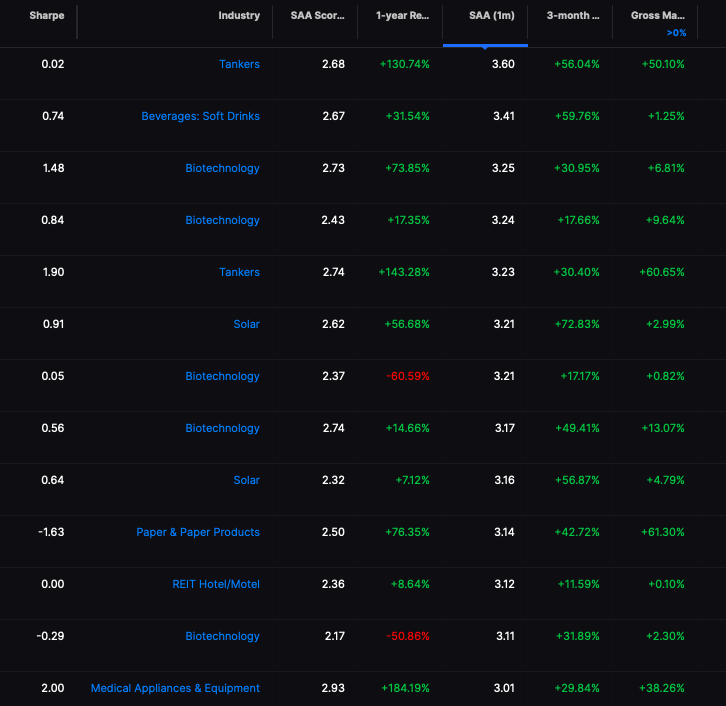 Not a single God damned oil stock.
Here are the annual returns for the quant since I've employed this new method.

I buy 20 stocks at the 1st of each month, rotating out the previous month — based on technical and fundamental filters in our screener. If I was basing this purely on technicals, I might've been buying piece of shit companies all along. But because I have some fairly strict standard — I am surrounded by only the best of stocks.
I did not create the quant for subscribers or some smart business plan. My goal with it and the evolutions it will take will invest my money and the resources of my children once I finally drop dead. I ask myself "do I want my money being invested in piece of shit stocks when I am long gone?" The answer is always no. I also think about the destiny trust and how big it could grow over the next two hundred years and figure I ought to work on it now when I am young — because when I'm gone my kids won't know the first or last thing about stocks.
What I'm saying is, for better or for worse, this is my life's work — not my trading or my fucking VRAX gambits into brick walls. I intend to increase the levels of sophistication of the quant in the future by deploying better market timing mechanisms and risk analysis.
If you enjoy the content at iBankCoin, please follow us on Twitter