There is no clearer way to describe this week's rally than to suggest it was a celebration of sorts of America's grip and hegemony over the world order. The war in the Ukraine is going poorly for Russia; ergo, markets have determined America's united economic response and ferrying of deadly weapons to the Ukraine is enough to maintain US supremacy. We are pricing in the end of Russia aggression. This could be a foolish trade or perhaps a prescient one.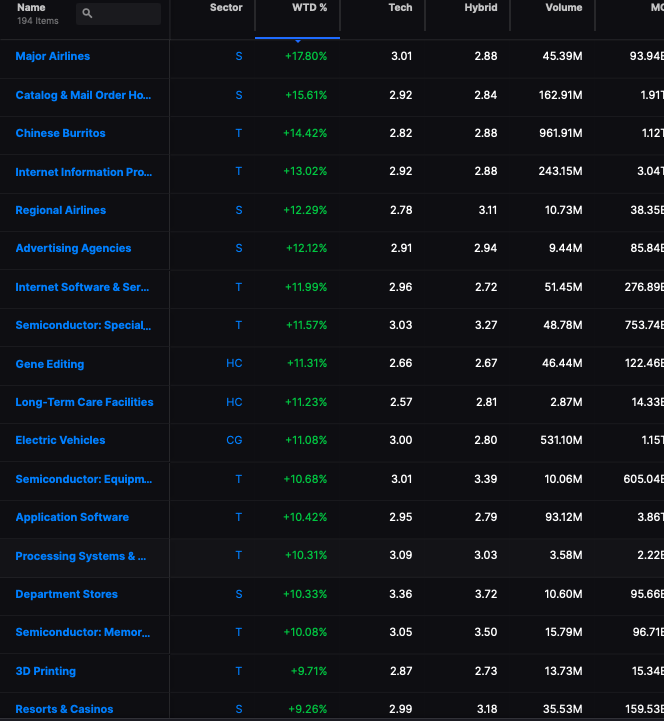 Week to Date gains, courtesy of Stocklabs
Week to date, the NASDAQ is up more than 7.5%. For the month of March, the NASDAQ isn't even up 1%. If we fade next week history will never know of the glory traders experienced this week. In my algo driven account, I am up another 4% plus, making that +25.5% for this week alone. I will be selling out of my TQQQ position next week.
Longer term, the commodity trade will work, not only because of the war, but due to the sheer economics of their free cash flow. For now, at least closing out this week, we celebrate the halcyon days of when Chamath took selfies of himself naked and SPACs were all the rage — because we were going to space in electric planes, smoking cannabis, enjoying life watching Netflix and mining for crypto currencies all the while printing guns in our 3-d printing presses inside our metaverse because someone burgled one of our NFT paintings from inside our estate in Decentraland.
If you enjoy the content at iBankCoin, please follow us on Twitter