Back during the Cuban Missile crisis, which lasted 13 days, the world was on edge because Russia and the United States might nuke each other into dust. During that time, the S&P dropped 7% — but quickly recovered once Russia blinked.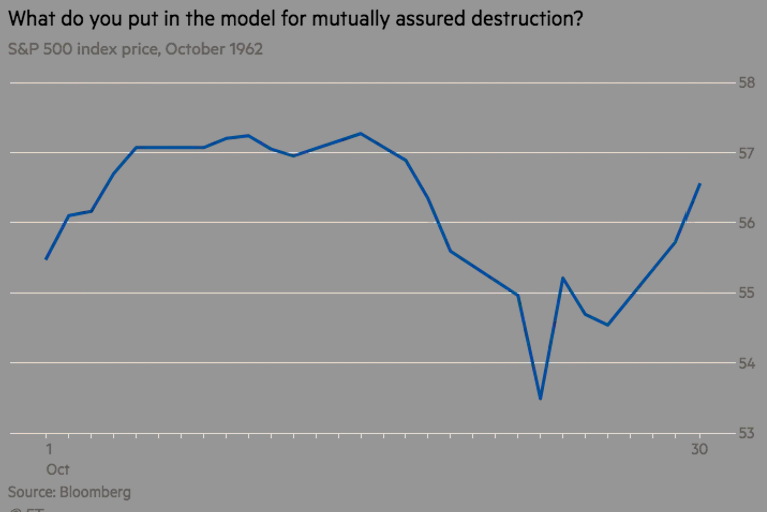 In recent years American wars have led to soaring stocks — because nothing says capitalism better than renewed contracts at Lockheed, as we bomb people to shreds for the love of oil and country. But I suspect the coming Russian-Ukrainian war will be viewed differently, since we have zero chance at bullying Russia out of their own front yard and we can't just fly sorties with our fucking CIA drone operators based out of Florida, indiscriminately killing people at weddings or yard sales because MUH terrorism.
As an aside, I must offer some context to my seething hatred of how my country is being governed. I never used to be this way. I was an utmost and dutiful patriot — tried to enlist in the Marines as a teen but was blocked by my mother — always thought well of my country and felt to my core our brand of government, democracy, was the single best thing to have been introduced to mankind.
Then after 9/11, I began to see things differently, or perhaps because I was maturing and saw through the bullshit. At first, I was very much onboard with American wars to avenge the deaths of my fellow NYers — but then the war and the grift took an an obscene nature and then the Patriot Act, which was passed to "protect" Americans, was used against Americans and then after Obama took office my country started to really divide its people amongst gender and race and now we have a situation that is so untenable and so severe, people hating one another over fucking vaccine status, I can honestly say that I do not care if this form of government exists in 10 years or not.
You cannot love something that hates you back and wants you dead. Ergo, I've spiritually and mentally written off my country as a loss — and I'm almost hateful at the idea that these people made me feel this way.
As for the market, it's true people want to see it destroyed. Why? Because people view the market as corrupt and the symbol of everything that went wrong with America post 9/11 — rigged from the top down by the Federal Reserve without checks or balances — just rigged. We were only happy for it because we made money; but we all knew it was bullshit and the debt we kept piling up was, one day, going to destroy the nation. Perhaps that's what THEY want, or maybe they're just really fucking stupid. And we're not alone in all this. It seems the west, in general, is on a similar path of decadence and perversion, eschewing traditional values in favor of demographic and spiritual warfare — all for the sake of the bottom line.
This whole Joe Rogan affair speaks volumes to what they want and what they will do to achieve their goals. They do not want Rogan around because he's too popular and doesn't tow the line close enough. Personally, I am not a Rogan fan because I think he's neither too hot nor too cold. Nevertheless, he doesn't conform with the new western ideals — feminism by any means necessary — war against those who reject modernism — war against any nation who opposes US doctrine. It started with COVID misinformation and now it has spilled into the holier than grail "N" word — a word that can be used by some but not all. These same people will gleefully and joyously toss your children into the meat grinder because of a 70 year vendetta against Russia and will tell you they were heroes for defending democracy in Ukraine — while stripping all of your freedoms and imposing their marxist ideals here at home to a new generation of tax paying sheep.
If you enjoy the content at iBankCoin, please follow us on Twitter