That did not go as expected. We closed at session lows down 385 NASDAQS on top of a backdrop where SAAS and other high valuation stocks are already down 22% for the year. When bubbles pop and the pieces are picked up, we will know where the bottom was only after the fact. Before the fact, we can only guess.
Here is the PS ratio and historical valuations for tech bellwether CRM.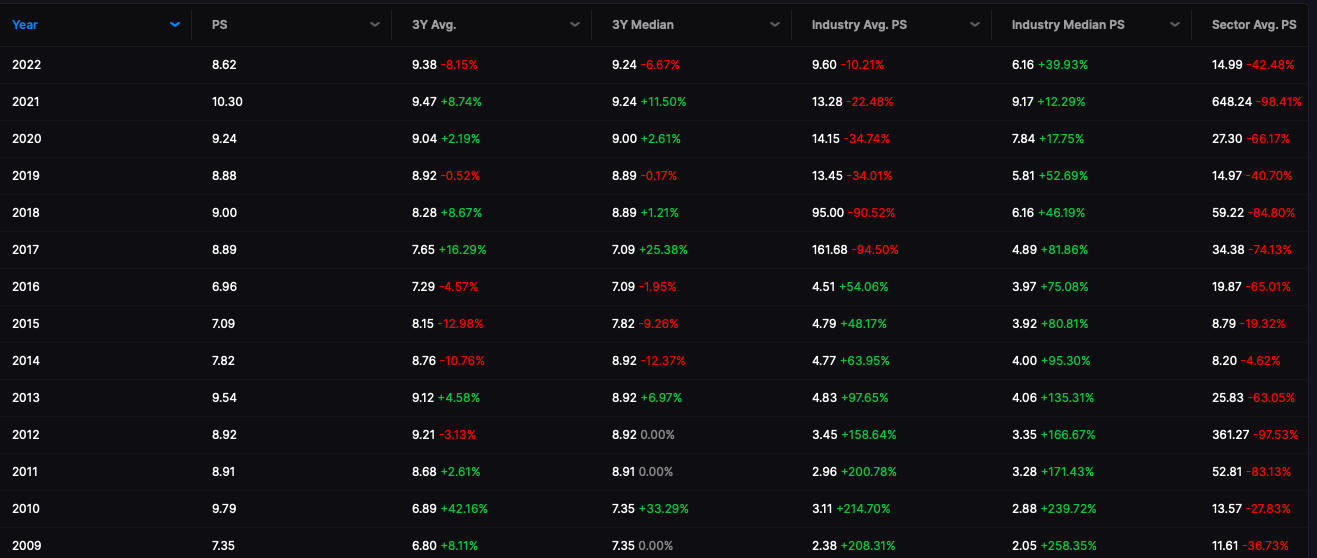 8.6x seems like a good level to dive in and I am heavily long WCLD — based on the fact that CRM is now trading 6.7x 2023 sales, providing they meet expectations. I sold almost everything early on, took immense losses in SHOP, MTTR, TTD and I initiated hedges in DRIP and SOXS. All of these moves on an intra day scale made sense and I still closed down more than 2%, finished the week off by 7%. I closed with a 26% weight in WCLD, 5% LABU and 5% UVXY just in case. I have 62% cash and the reason for this is I am now down 10% for January, coming off -2.6% in December. I have not managed the market well, a little too soon and a little too late. There are been so many trades I missed and sales I held off because I hoped for a rally. This trust, based upon the learned behavior of the market the past 12 years, has caused me to be complacent.
It is true the markets are oversold inside Stocklabs and it is true the oversold signal that flashed yesterday failed. This is not the first time the OS failed and it won't be the last. These signals, at times, can be wonderful crutches and helpful in navigating the market. But there are times like now when the narrative is shifting and the ideas of a bounce are foreign and it is during those times we get true dislocation.
My best guess is for a sharp mean reversion rally soon but I cannot allow myself to bet too big because of my losses. The ultimate goal is to remain in the game and to limit losses during periods of duress. The best way to do that is staying loyal to stop losses and accepting the fact you were wrong and lost the chance at playing SHOP because it fucking tanked into your face you fucking moron piece of shit.
If you enjoy the content at iBankCoin, please follow us on Twitter