I was really impressed by the Quant in October — capturing monster winners like NET (+75%), NVDA (+25%), INMD (+25%), SM (+25%) — helping to outpace the 7-8% returns of the market to +12%. It's important to note the returns of the Nasdaq and SPY are no longer strong barometers of what your average stock is doing. Most traders are not diversified and often regale themselves with the very worst stocks in order to grab quick gains. Here are the returns for October by sector.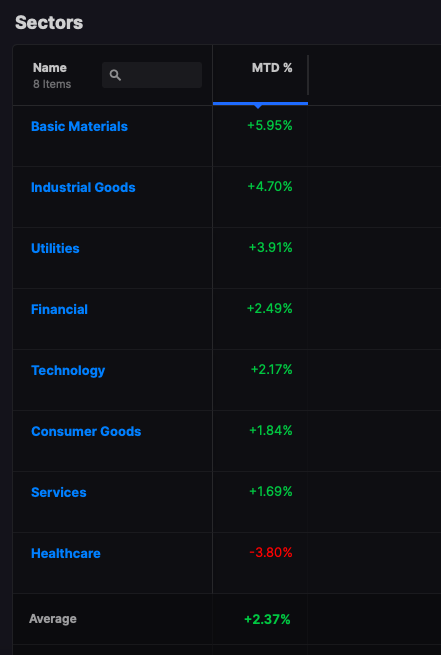 There are certain fundamental criteria that is consistent with stock outperformance. For example in SAAS, the best stocks are the one's with the strongest margins. Gross margins is a must have criteria inside the Quant, in addition to revenue growth and minimum revenues levels to weed out bullshit stocks — and also revenues growth quarter over quarter to remain in stocks constantly growing. This creates a paradigm shift often, such as diving heavily into oils into their growth phase. Last year there were zero oils in the quant because they weren't growing. While I might miss out on some big winners, by setting fundamental criteria I insulate myself from the specter of a truly horrific drawdown in shit stocks. Remember, I set it and forget it for a month and only touch the portfolio the first of every month. There is no market timing involved.
Now the criteria shifts on occasion, all dependent upon what blend of fundamentals produces the best returns. There was a time when minimum free cash flow was desired; now that is not the case.
The final arbiter is the Stocklabs Advanced Algorithm (SAA 1 month) feature, which is new to the platform. This produces a technical ranking for a 1 month time period and isn't as sensitive to daily moves like our standard default score.
For November, looking at the screen now — it is heavily influenced by tech, oil, and banks. Healthcare seems to be absent, on par with the abysmal performance of the healthcare sector during October.
Skeptics might suggest now is a good time to buy healthcare. While this might be true, the algorithms do not give a shit about your feeeeelings and offers unemotional assessments into the heart of the market and it will shift when needed. For all we know, healthcare is about to swan dive the fuck lower again. The technical scores are weak because people are selling the fuck out of the sector.
The point is, believe in the efficient market theory, which states all available information about a stock is already known by the market matrix and summarily priced in. Our job as investors is to ride this wave and position ourselves in the best stocks, both technically and fundamentally, in order to exceed market returns.
At +34% for  2021 vs market returns of +23%, I'd say we're doing that now. The November Quant allocation will be revealed inside Stocklabs Monday around noon. At this time we do not offer free trials. Try for a month — cancel at anytime. It's the best, believe me.
If you enjoy the content at iBankCoin, please follow us on Twitter