In this era of meme stocks and diamond handing gambits, a younger cadre of investor believe they're going to get rich based upon their feelings. Just like your great grandparents, grandparents, and parents before you — you too will go bust!
Generations of dreamers betwixt by sheer ignorance will indelibly keep your bloodlines catacombed as train conductors and trash haulers, bank tellers, and emergency room attendants. The idea of taking a small sum and seeing it increase 20-100x is in fact rare. Take for example my sojourn into ETH during the turn of 2020. I accumulated just $5-10k worth of coins per month into a period of time deeply depressed and held onto it, overseeing my small sum balloon into a rather large sum, not by skill or foresight but circumstance otherwise known as luck. If I'd permit this grandiose investment get into my head, I might've tried to repeat this extravagance in other coins and see them dive lower with the rest of the Third Estate, like so many other Third Estates fell during previous generations of dreamers.
Take for example stocks under $250m market cap this year. These were the bread and butter of "winners" during late 2020-early 2021. They're now down 55% from their highs and these losses extend, rather miserably, into all facets of the market up to large caps — with more than 20% of stocks as a whole down 50% from their highs.
If you "aped" into GME north of $400 at the height of the euphoria, your account is now worth zero.
What is the solution?
Moderate your expectations and once again fall back on efficient market theory, satisfying yourself with "normal" big dicked returns of say 3-10% per month. As a trader, and a good one, you should be able to achieve this return — resulting in annual gains of anywhere from 40-120%.
Granted, being able to return 40-120% over a long period of time is close to impossible. I am of course spoiled with the market we've enjoyed for the past decade plus. But let's say you're a really special boy and you took $50k and invested it wisely, looking for normal big dicked returns and added $10k to said account every year for the next 25 years. Any idea what that account would be worth?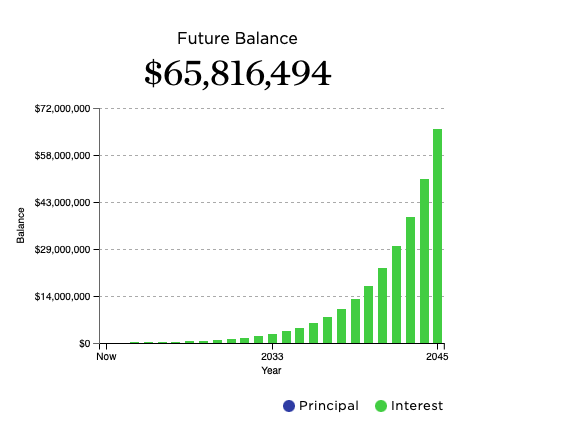 $65 million you fucking retards
Say you're a 30 year old punk today who knows it all placating your ego on Openseas, swindling others in the NFT racket — expending endless energy towards this craft all for the end result of becoming wealthy. Perhaps you chance upon a really unique ape or rock and strike it rich and use those funds to finance a life rich with luxury and degeneracy, mostly likely burning out by 40 in a cocaine fueled haze — wife and kids leaving you and yourself so depressed over the arc of your life — you blow your brains out.
An alternative to this path is patience and compounded returns!
In summary, do not blow your brains out by becoming too rich too fast. Instead opt for a more measured investment approach and if you want to accumulate wealth fast — how about starting a business and fulfilling the dreams of your fore-bearers who fell flatly onto their faces — buried under debts and sorrows — passing on bad advice and acumen to future generations only to repeat the cycle of insipid mediocrity and morose speculation.
https://www.youtube.com/watch?v=bX-ERe5cB00
If you enjoy the content at iBankCoin, please follow us on Twitter