Bill Hwang had a nice life, on top of the world. As a former Tiger Management alumni, Bill earned the respect of his industry peers. He even had a sojourn into the SEC files for being guilty of a little insider trading.
Naturally he escaped jail time and re-started a new fund — this time bigger and badder than ever. Bill ran a firm called Archegos and now it's over. Poof!
Mr. Hwang's fund is known employing leverage, meaning it borrows to invest in more securities than it could own with its own capital. One person familiar with the matter said Mr. Hwang's fund received a margin call from one of the investment banks – not necessarily Morgan Stanley or Goldman Sachs – and was unable to meet it. As a result, that bank and others began to liquidate stocks owned by Archegos.
If you're curious as to why VIAC, DISCA, TME and other China centric names were LIT UP on Friday, look no further from Bill. He was heavily leveraged into those names to a degree that borders on the comical. Some reports indicated the notional exposure was $80b on $15-30b in equity. At any rate, it appears to be over now; but this saga might be far from finished.
The damage has been done and the losses Bill endured are also shared amongst other gamma seeking retards and that might lie the market down soon and shoot it in its head.
Whispers of LTCM ruminate around this blog as I type this and I hope to see Bill off doing well now, some place he isn't banned from trading. And perhaps VIAC and DISCA rally hard on Monday, helping yours truly profit from Bill's demise. But the question is — how many other Bills are there now?
Have a look at the China-stock pin action the past month.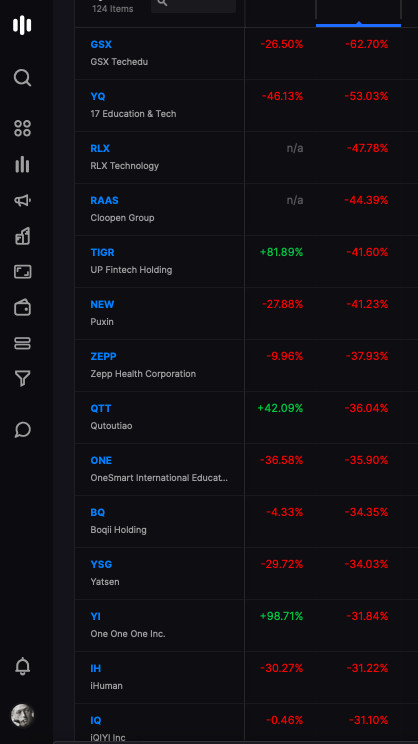 Blood is in the streets and if there's one thing Wall Street is good at is exacting damage to those caught on the hook, purposely and viciously causing others to go out of business — not because those people had blood revenge odes, but only because it's fun and could do it.
If you enjoy the content at iBankCoin, please follow us on Twitter