In the past, the mean reversion oversold signal was often lauded in these halls as the next great big dick. In recent years, due to market calamities, that signal has been going through courrections. It's not the algorithms fault. After all, black swan events are by definition UNFORESEEN. So now the algos are simply adjusting to the new normal and identifying stress points as we go. But the overbought signal is UNDISTURBED, thanks to a decade plus of wanton degeneracy in this American bull market.
But we do not use this signal for mean reversion — since markets ripping higher rarely, if ever, pause. Instead, I use it as a momentum indicator, the green light that says "SHORTS ARE ON THE RUN, EXECUTE THEM."
We just had one the other day and I'd like to illuminate the fact that it is hitting a 83% win rate now for 5 days holds.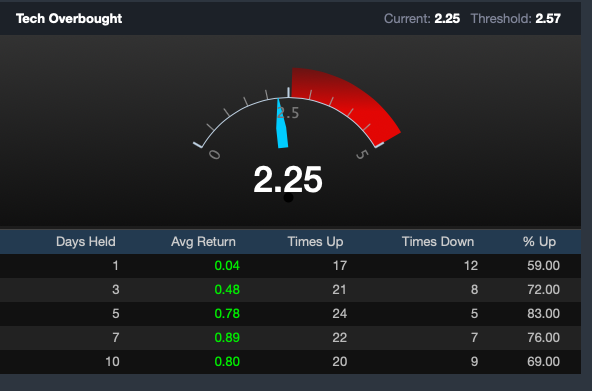 Could you fashion this on your own without having to choke up the debilitating cost of $59 per mo? Not in a thousand years can you reverse engineer it. Also, and it's worth noting, if you cannot invest $500 per annum in your investment career, you have no business in the market. FUCK OFF.
If you enjoy the content at iBankCoin, please follow us on Twitter