I give up trying to predict the market. The Fed is throwing everything at markets now and there is a global coordinated effort to CRUSH the status quo and toss economies at scale into the sewers. The net result is people are spending more time at home with their families. God willing you have some money squirrel away, otherwise this is a very arduous and stomach churning process. To those people I am deeply empathetic.
For us traders, this is literally a best case environ for markets. This morning I ripped out a +10% trade on FAZ, reversed it and went 2x long SOXL and just sold that for 10%. I own a little gold and also this LOGM, which hasn't run alongside ZM — for reasons that escape me.
Markets were down almost a thousand earlier and I was -10% on SOXL, very close to selling. The reason why I held is because Tepper came on teevee and starting to calm fuckers down and then I figured we might get a post European close bump, which is typical these days. I was right, so I booked it. Although markets look good, no one knows really — so why guess?
Banks are still fucked and down sharply and the news flow is ruinous. I hope you've been able to carve out some gains in this tape. If not, and this goes without saying, come join us in Exodus for some fish.
In other news, founder of Barstools sports is literally gambling away $3m of his own money in stocks, now that sports is banned. It's hilarious to see how smart people can be so stupid when it comes to money.
His "portfolio", trading a $3m account with DELAYED quotes.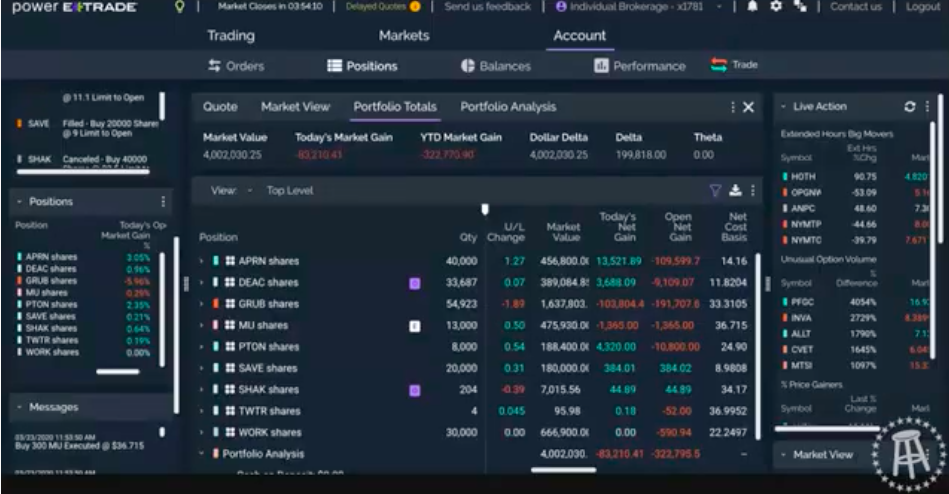 If you enjoy the content at iBankCoin, please follow us on Twitter