When people approach me and ask "Sir Fly, how might my family and I make a little bit of money in the stock exchange?", I usually hit them with my cane and holler at them for disturbing my peace. But every so often, I am comforted by chirping birds or perhaps a sunset and such disposition permits me to offer them a bit of kindness. When it comes to the continent of Asia, an indecorous and ancient land filled with throat cutters and street masturbators, I offer only one piece of sage advice.
"Invest in whatever will cause addiction in that savage land", and then I hit them with my cane.
In this case, I must reiterate my interest in LK, Luckin' Coffee, due to the speed in which the shares are rising now. I've talked about this before and I will talk about it again. They're #2 in all of China in pouring the black down into the throats of the Chinese citizenry. Up until recently, when western garbage culture infected theirs like a malignant tumor, they persisted off green tea and worked hard in the rice paddies, providing a large country with enough food to last thru winter. Now since all of the farmers moved into the "big city" and become billionaires, those morons don't have enough food and have subsequently resorted to eating plastic rice and/or feral animals. These new city slickers are all trading stocks, wearing shiny suits, and driving fast cars. Gone are the days of the bicycle with the basket filled with soy in the front. The modern Chinese wants luxury items and, believe it or not, emulate the degenerate American — courtesy of Hollywood and their propaganda.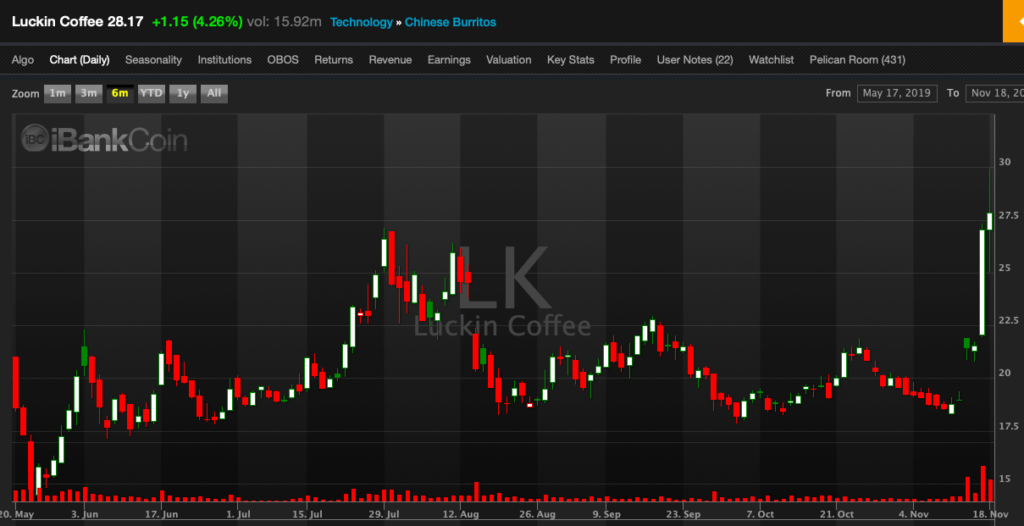 To this end, the green tea sojourns and rituals have all but ended and replacing it is The Black. Chinese people have taken to the bean with rapid qualities and this addiction has permitted Starbucks to spread their brand of disgusting coffee with cancerous characteristics. But thanks to the trade war and anti-American fervor throughout the streets of Beijing, the Chinese city slicker is opting for the domestic brand these days — Luckin' Coffee.
How this coffee war ends is anyone's guess. The people at Starbucks are devilish and can trick anyone into giving them money in exchange for their sub-par bean. However, if you're looking to invest in an underdog with patriotic qualities surrounding the brand via 'DEATH TO AMERICA AND THEIR FUCKING TRADE WAR STIGMA', LK is the stock for you.
If you enjoy the content at iBankCoin, please follow us on Twitter