According to the Fed Watch tool created by the boozehounds at the CME — the Fed is going to cut rates 3 times before year end. This might seem foreign to all of you — but the odds are the odds and betting people are rolling the dice on this occurrence.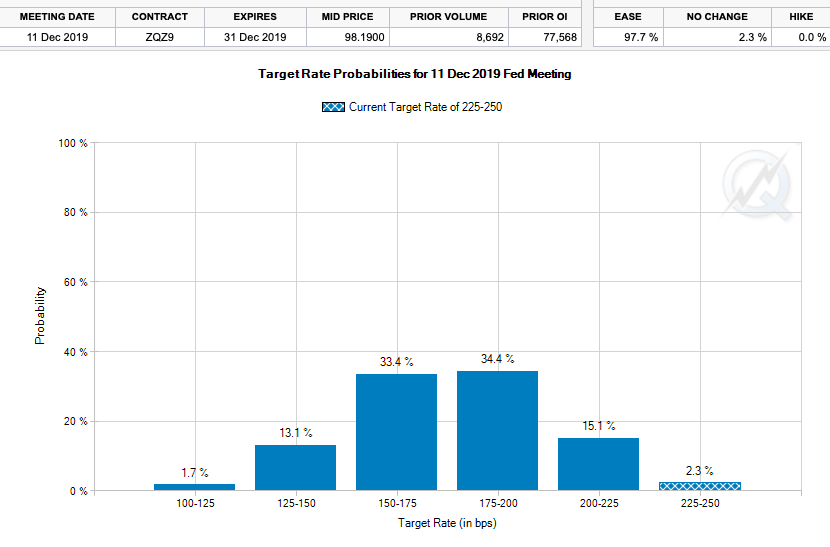 Over the past few days, seemingly responsible analysts at Goldman and UBS have countered this notion, suggesting it would be retarded to cut rates with unemployment at 3.6% and markets near record highs.
UBS
"While the Fed may eventually be forced to support growth, especially if the ongoing trade dispute with China inflicts lasting damage on capital spending and employment, we don't expect a rate cut soon," says Mark Haefele, UBS' global chief investment officer.

UBS believes recent economic data has been "mixed," rather than weak, which don't warrant an easing of monetary policy anytime soon.

The bank cited unemployment rate "at a multi-decade low of 3.6%," "robust demand for workers" and high consumer confidence.
Goldman
Although it is a close call, we still expect the FOMC to keep the funds rate unchanged in the remainder of the year," says Jan Hatzius, the bank's chief economist.

Chairman Jerome Powell said last week the Fed will "act as appropriate to sustain the expansion." Goldman said it was not a strong hint of an upcoming cut.

The fed funds futures market is pointing to a nearly 70% chance of a rate cut in July and about 60% probability of three rate cuts this year, according to the CME FedWatch tool.
Shut the fuck up UBS and Goldman — you know nothing. The Fed and their terrible ways have kept markets from achieving a grande eloquence unseen since the 1920s. If it weren't for the Fed, according to POTUS, the market would be 10,0000 points higher. Ergo, and this goes without saying, The Fed should now cut interest rates by 100bps in order to give the people its 10,000 points.

Do not stand in the way of progress, mate. Futures might be soft this morning, but I bet they wouldn't if the Fed had DONE THEIR JOB and lowered rates and started buying fucking mortgage bonds again.
If you enjoy the content at iBankCoin, please follow us on Twitter