This is like predicting Amazon will land a man on the moon by 2024. Adam Jonas, who probably left the Jonas brothers to become an analyst at Morgan Stanley, is out making a dramatic splash today — thanks to his research note that says TSLA can go to $10, if a sundry of things coordinate and all work towards the stated goal of destroying the company.
Needless to say, the TSLAQ crowd on Twitter are besides themselves with joy this morning — retweeting one Tesla car crash after the next — warning people of the dangers of auto fires, and simply stating to others that there aren't any Tesla auto-mechanics to fix or service the Tesla fleet — alongside this Morgan Stanley note.

We have long held that Tesla's share price performance is driven by: demand for its products, ability to generate cash flow, and access to capital markets. This year's sharp deceleration in demand has led to a substantial curtailment of the company's ability to self-fund through free cash flow generation, at the margin potentially impacting the firm's access to capital. Tesla's recent $2.7bn equity and convertible debt raise may provide an extra year of liquidity to run a business of this size and cash consumption. However, Tesla may now find itself in a cycle where a lower share price may itself contribute to a potential deterioration of employee morale as well as potentially increased counterparty risk with both customers and business partners (suppliers,governments)… potentially further impacting fundamentals.

We believe Tesla may have over-saturated the retail market for BEV sedans outside of China. Tapping into new demand could require aggressively expanding into: 1) the Chinese domestic market, 2) lower-priced SUVs, 3) and logistics/mobility fleets. Tesla is a large and highly vertically integrated company, capacitized to build between 500k and 1 million units annually. In our opinion, Tesla has grown too big relative to near-term demand, putting great strain on the fundamentals.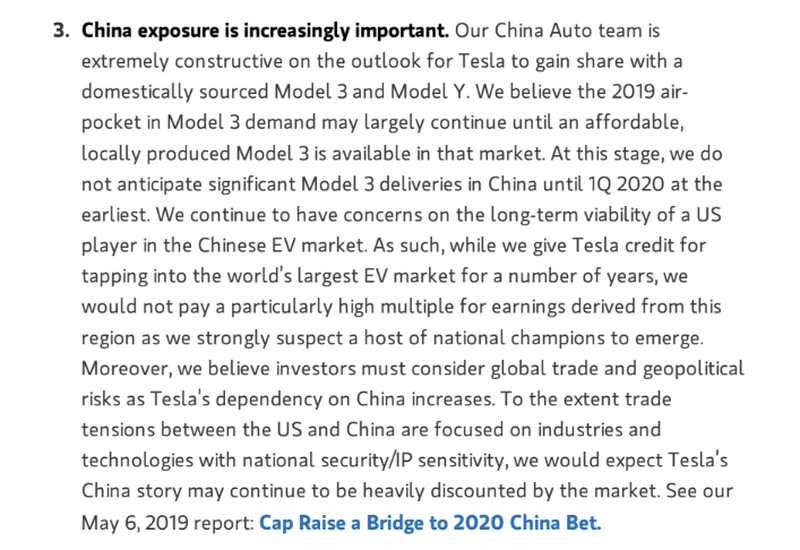 Shares of TSLA are -3.1% in pre-market trading.
Full research note.
If you enjoy the content at iBankCoin, please follow us on Twitter