I am going to show you a chart that is the truth. You might believe it to be the opposite of the truth — because it's unconventional — but I'll explain it in a moment.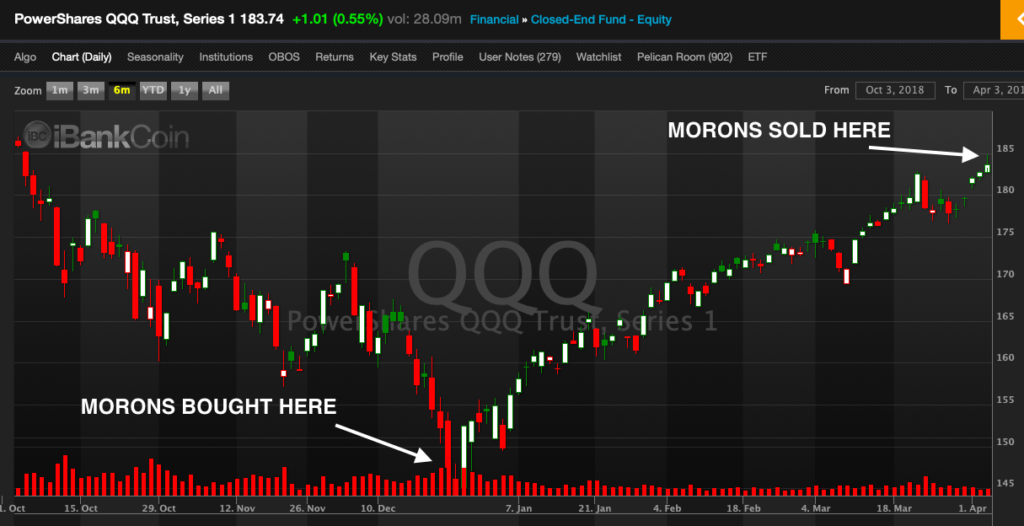 Back in December — now with the benefit of hindsight, Xmas marked the bottom. Had you bought there and held — you made a fortune — but you were also a moron for doing so. It was a shot in the dark, a lucky gamble that paid off — no different from a spin on the one arm bandit. The correct, or higher probability trade was on January 4th, when stocks broke the downward patterns and oil spiraled higher. The black candles ceased to scare investors away and dips were bought with alacrity and vigor.
The same logic applies to today. If you sold, or bought TVIX or TZA, you're a moron — and that's fine if your family has a rich and long history of producing morons. You can't help yourself — no different from a reprobate unable to appreciate the finer things in life — such as pear tarts with a dash of blood orange mascarpone stipple, mind you, on top.
This is where you relax and wait, wait for coked out hedge funders to make a final push towards alpha before heading out to St. Bart's to waste their summers away. There is not a chance, not even a little bit, for a reversal to the downside before Easter.
If you enjoy the content at iBankCoin, please follow us on Twitter