This is the brand of lip service I enjoy most, just like white people being racist against white people and black people just sit back and say to themselves "damn those people are crazy."
Here's Jamie Dimon, CEO of America's largest and most prominent bank telling people that poor people, mind you, have been left behind. This is a person who is literally part of the process of quarantining money away and out of the hands of poor people — responsible for low wage-cucking jobs and holds incredible away over US policy.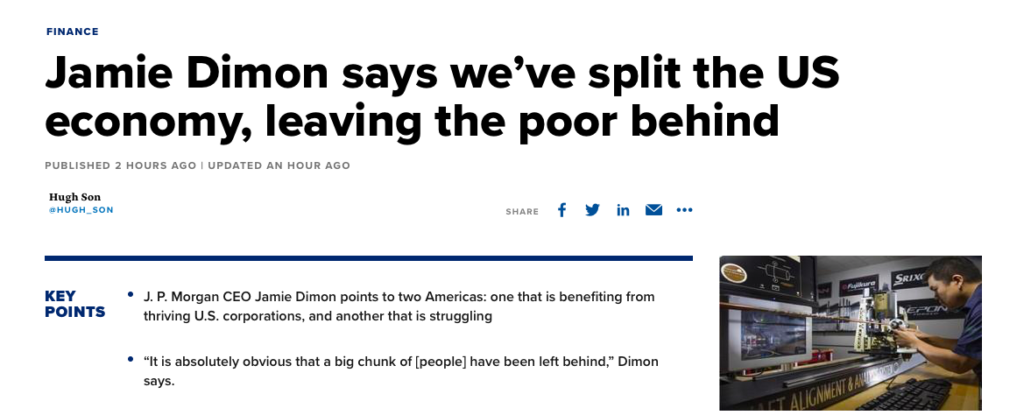 So now because Dimon is making sympathetic statements regarding the plight of poor people, said impoverished will then spare him the rope — should that day ever come?
I don't think so.
Truth is, and this is a hard pill to swallow, poor people are poor, mostly, because they're not smart. Sure, Uncle Joe is plenty street smart — but he doesn't have old money being passed down to him and he wasn't brought up with privilege, the best schools, even the best looks — because on a long enough time frame (wait for it) great looking women marry rich men who then produce good looking kids, athletic, and strong — smart and motivated. The recent college scandal, in a way, was good press for rich folks — because it made poor folks feel better about their plight — making them believe everything was rigged.
It's all in the bloodline, stupid.
The truth is a much harder stone to ingest. They never had a chance, generational trauma and poverty casts a significant pall upon any bloodline. Money is rarely gotten with luck, and is most readily accumulated by people who have good habits, discipline in the manner of life — the way they spend and earn, and the modes of entertainment — the people around them feed into this machine that create an environment of success and this works almost in perpetuity until collapses occur.
I'd rather not delve into the politics of how this is happening, but merely stating why it does. Smart people evolve and adjust to their environment. Dumb people place themselves into danger and permit melancholy to manifest itself and ominously allow self-destructive habits to wreak havoc. In spite of what you might see on TMZ, the vast majority of alcoholism and drug addicts are ravaging poor neighborhoods today, irrespective of race.
So thank you very much Jamie Dimon for telling us poor people are being 'left behind', a condition that has been a dominant factor in the biggest pyramid scheme of all time — life.
If you enjoy the content at iBankCoin, please follow us on Twitter