The number one question people ask me when discussing momo investing is "how do you know when to buy or sell?"
Buying breakouts is scary for people because they feel late to the party and are risk averse. But after you realize the biggest gains in trading always involve CHASING MOMENTUM, rather than anticipating it, you'll become a believer in what I am going to show you.
In other words, it's better to wait for a confirmation of a breakout than waiting for one to materialize. Whatever sector you're biased to might take a year to work, and in that time you would've missed out on innumerable trades. This is why staying in tune with current trends and maintaining a 'recency bias' is important.
Case in point, my last position in HYRE. I bought the stock on Thursday at $4.41 — because it was the FIRST white candle in a micro cap stock that, potentially, could offer parabolic gains.
How do I know this?
Recent gains in other auto plays, such as SOLO, FUV, and NIO suggested it was possible.
This is the chart I looked at in real time before executing the trade. Notice how every run in the stock started with a big ass white candle and how the recent sideways action offered a unique risk/reward. My downside was at $4, or 10%, the upside must be met immediately. Because I bought it on the first white candle, and was interested in momentum, the stock had to produce another white candle on Friday — and it did.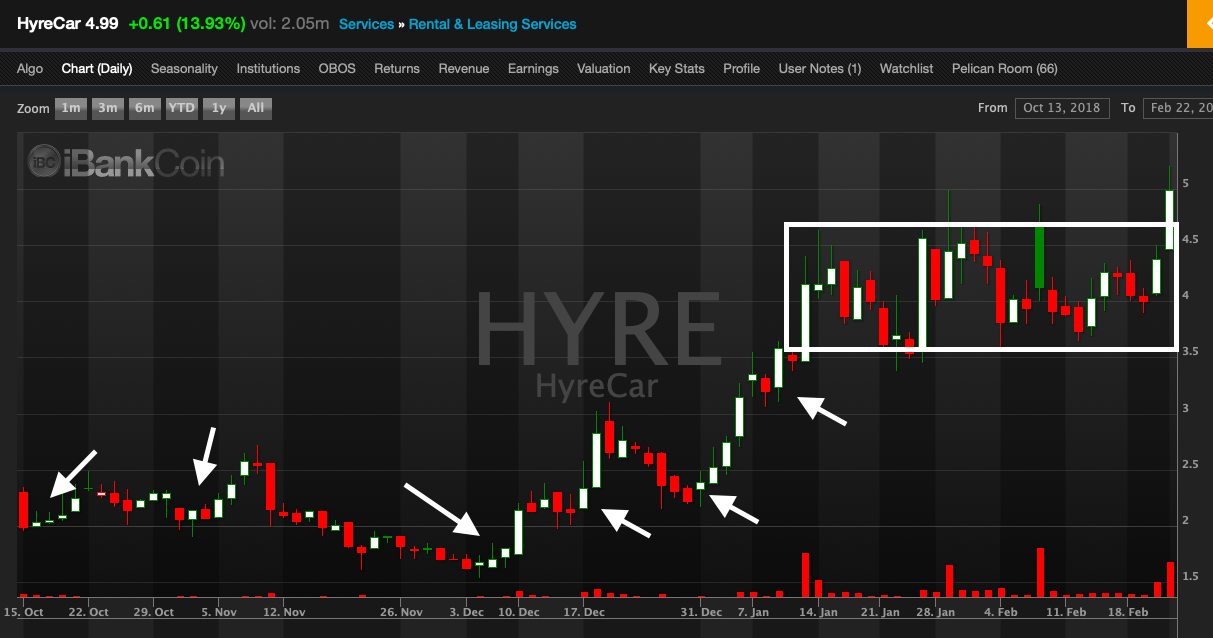 Now because volume picked up and the stock closed sharply higher on Friday, I view this stock as ripe for a parabolic move higher.
Why?
Well, for one, it's a micro-cap piece of shit that is traded by low IQ degenerates. I am smarter than these people and could out-trade them with ease. Also, there is no price memory, zero resistance, at this level. If we get another gap up on Monday, it's possible this momo could foment into FOMO and I'll sell into it.
I'm rarely interested in catching bottoms or tops, just the fat middle.
This brand of TA can apply to all stocks. You want to look out for BIG ASS WHITE CANDLES and how that stock performed in the past upon getting them. You want to analyze price + time + volume to see where the price memory is strongest. Lastly, you want to establish firm disciplines on downside risk and thematic risk. In other words, if this little group of stocks start to lose favor in the market, SELL. Do not wait for a turn and do not care where the stock is trading. I am in this stock for the momentum, not the company.
CLASS DISMISSED.
If you enjoy the content at iBankCoin, please follow us on Twitter