I am so god damned busy today I can't even see straight. Years ago I was so lazy and spent my days in complete leisure, spare time to watch cinema, afternoon faggot sessions of reading books, cavorting online with animals in a fleeting effort to make them better investors. Now that I'm older, grizzled, and wholly odious — bald head, weather beaten face — I am so busy I sometimes prefer to be dead. Don't worry, I'd never commit suicide — because that's a waste of a perfectly good death. If I ever wanted to die, I'd do so in a comedic manner, such as hostilely takeover a Chicago drug corner in the manner of an investment banker — producing documents to said kingpins of my intent and the new leasing conditions set forth for their continued pharmaceutical enterprise. Or maybe I'll venture off to Syria and walk around with an Israeli flag, planting it into the center of holy muslim sites, or vice versa.
There are lots of hysterically heroic ways to die. Maybe I might decide to be a vigilante. Who knows?
At any rate, I realize I am fighting an uphill battle here. With a decade long bull market, many of you have developed bad habits. You're permanently bullish and therefore stupid. You attribute blind luck to skill and lack discipline and focus. This is where The Capstone Programme comes into play. I will call you up on the god damned phone, or via web based communication service, and force strong and good habits into your investment lives.
The service should be launching by Black Friday and it will be on a first come, first serve basis. Since each session is a personalized mentoring, educational experience, I can only accept so many members per month, maybe 100. If you show up late and lament over missing the opportunity to buy 1 hour's worth of my time, do not fear — for you'll be placed on a waiting list and I'll get around to you. At the moment, Jeff Macke, Ragin Cajun, and RAUL will also be available to help, with Macke specializing in retail (his father invented the modern day Target), Ragin for technicals, and RAUL for futures.
The purpose of the service is as aspirational as it is ambitious: transfer our knowledge and expertise to you in order to hasten your journey into becoming a better investor/trader.
Courtesy of Exodus, here is my current Quant fund — +1.5% over the past two weeks, versus a SPY which is flat. I win again.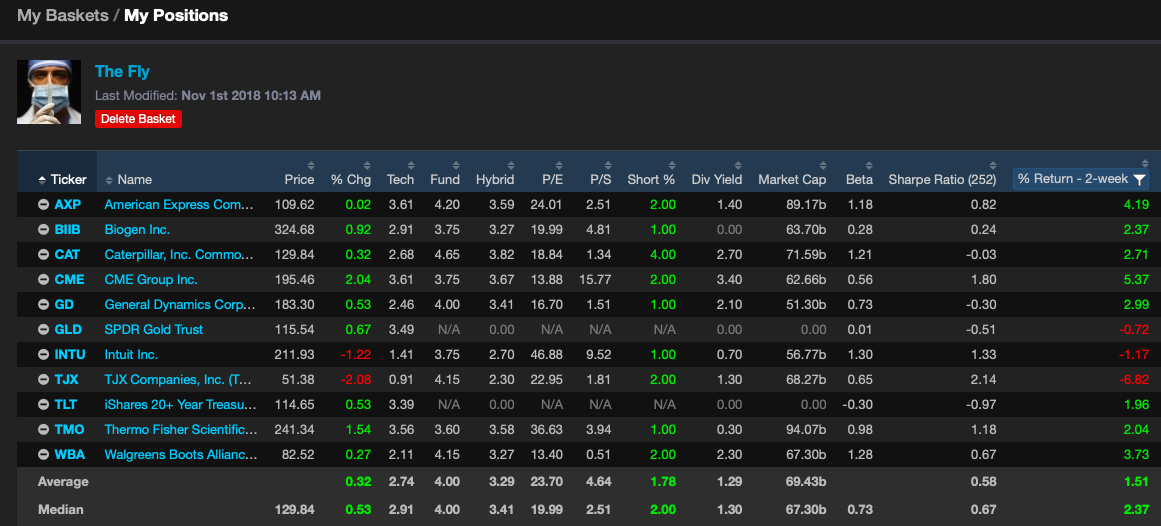 If you enjoy the content at iBankCoin, please follow us on Twitter