It was a haunting week (sorry I had to), and stocks stared into the watery graveyard of yesteryear and punched Satan in the cock. The Nasdaq is higher by 4% the past week, ending on a sour note — but we bounced. Didn't we?
ChartFAGS will be jerking off to this pattern over the weekend.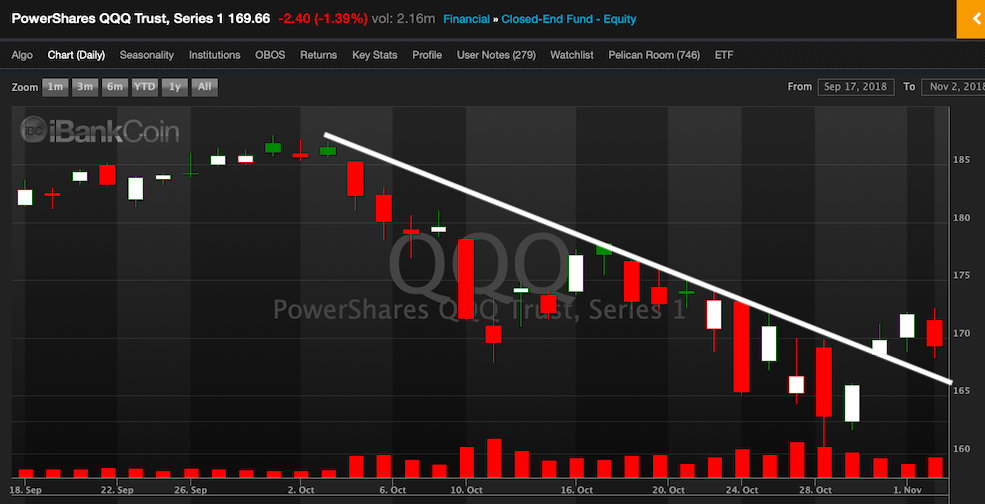 Quants will be reloaded and stops placed just below $165 on the Qs. You should be prepared for another retesting of the lows, perhaps reach new lows, should we breach the $165 level.
On a more specific level, we absolutely crushed the tape in Exodus and hopefully here on the free site. We got out of the inverse ETFs just in time for the rally and then loaded the fuck up into the turn. I booked massive profits and moved to cash on Friday, just before the market turned lower.
Was it luck?
Fuck off. I've been doing this long enough to realize that what I do is skill, countless hours of repetition, enduring hardships, absorbing information on an industrial scale. I'm gonna try my best to show you the rigors of learning this business in my new service, scheduled to launch by Thanksgiving. But just know, I'll punch your jaws loose if you waste my time by falling back on your sophomoric habits. It'll be like Gordon Ramsey's restaurant makeover, only for your trading routines.
For the week, my Bubble Basket was +11.5%, FAANG +4.7%, Semis, Copper, Cannabis all higher by 12%, etc.
We're good for now. No need to overanalyze this shit.
I don't think it's wise to short here, or be very long. After an initial bounce off the bottom, it's wisest to step back and see if the market will follow through. If I see that it wants higher, I'll reallocate into the market.
For those who don't give a shit about short term trading, those with real jobs and limited time, don't panic yet. These sort of drops are rare and often trick people into fucking themselves by selling at the bottom. We're heading into the best months for stocks. You've come this far and have endured a retarded move to the downside; you might as well wait a little bit longer and see if markets can recover.
If you enjoy the content at iBankCoin, please follow us on Twitter