ALERT: In honor of Le Fly's magnificent impending birthday, we are handing out 7 day trials to Exodus. Email me a nice note and gain access: flybroker at gmail dot com.
Indeud folks.
Even though 10 out of 10 people surveyed in the midwest hate iBankCoin and would kill "The Fly" if provided a clean escape, the wins keep piling up and the corpses of my enemies catapulted into outer-fucking-space.
The stock Gods smiled upon me, in lieu of my birthday (tomorrow) and granted me a comical victory in the form of a $BILI-club.
Observe.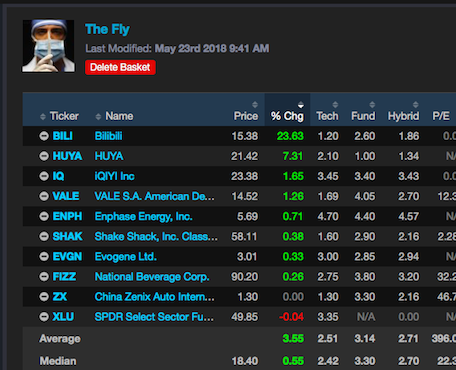 That's my discretionary portfolio, up very sharply on better than expected results out of BILI. Immediately, HUYA chased it higher and so will IQ, all in due course. This my friends is what one might call 'winship'. You're entitled to hate all you want — become jealous of the man inside the time machine zipping throughout time with a very high $IQ — or you can do something about it and quit being such losers and maybe work hard, or hire a Voodoo magician to do sacrifices for you.
For some of you reading this now, especially the gentle type, this is all very 'off-putting' and maybe I have a chip on my shoulder, or perhaps both are true in this case. Either way, you should go fuck yourselves — for Le Fly has bottles of champagne to devour, nice big fucking steaks to destroy, and 5gs of creatine to ingest — just before hitting the gym and lifting things until my arms can't move.
If you enjoy the content at iBankCoin, please follow us on Twitter