Real talk here. Goldman was 100% the 50 cent trader — I'd be both my testicles on it. Here I can prove it.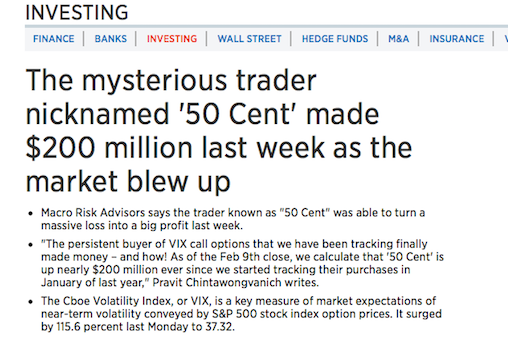 Who else made $200 million in retarded VIX contracts? I say 'retarded', in spite of the desk being praised now for its prowess, because who the fuck buys contracts simply based off price? That's autistic. Moreover, this trading desk lost $200 million at its trough, then started to trade sideways and down, scrounging for 30 cent option contracts. It got to the point that people laughed at the 50 cent trader over cocktails and figured it was some mentally ill Saudi Prince with nothing better to do than get jerked in the options market.
"At one point, he was down $200 million, most of that permanently lost in expired option premium. At one point, '50 Cent' became '30 Cent,' scrimping on his usual VIX option purchases, unwilling to pay up for the 50 cent VIX options that were his namesake," Pravit Chintawongvanich, head of derivatives strategy at Macro Risk Advisors, wrote in a note to clients Monday. "But in early February, when it seemed like Fiddy's fortunes could go no lower, it came: redemption."
This wasn't a case of Goldman being gurus and forcing a liquidation of XIV. This was a desperate trading desk in ruins for nearly a year, thanks to a trade gone out and retarded, rinsed clean from the bull market of 2017.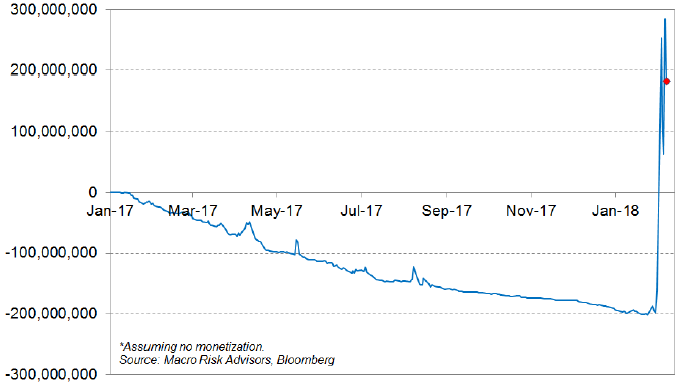 Full discloser, people said it was Ruffer Capital who placed these bets, but for the sake of congruity, I am ignoring this old news clipping and chalking up the trades to Goldman. It suits my world view in this way.
If you enjoy the content at iBankCoin, please follow us on Twitter