UPDATE: What sort of ETF has a termination event that is triggered in the after-hours to absolutely FUCK everyone is owns it? Moreover, how many active managers just got caught with their pants down like me? It's all fun and games until your fucking ETF goes to zero in the after-hours.
UPDATE: Apparently, there is a termination clause on these VIX products that permits underwriters to liquidate the product in the event of an 80% move in volatility, which would explain the selling. However, and I must admit, this is the worst ETF fuckery I've ever seen. I have 10% of my account in this, so I'm guessing I will lose 10% of my account by tomorrow.
Can't wait for the death of the short volatility trade which has been pumping this market for sooooo long! $UVXY $XIV $VIX $VXX pic.twitter.com/aXv0TqbDhb

— Sp3cul8r (@sp3cul8r) January 30, 2018
NIKKEI futures are -8% now. Other than that, I have no idea how this is possible, but XIV is now trading at $38 in the after-hours, down from $100.
As you know, I am long XIV, even bought more on Friday at $120 — and now it's down 70% in after hours trade — a move that I cannot explain. I just got back from ordering sushi. I turned on the teevee and saw XIV scrolling on the ticker. I thought this was the result of a reverse split. But then I looked at the long VIX products, and they're all up 25-30%.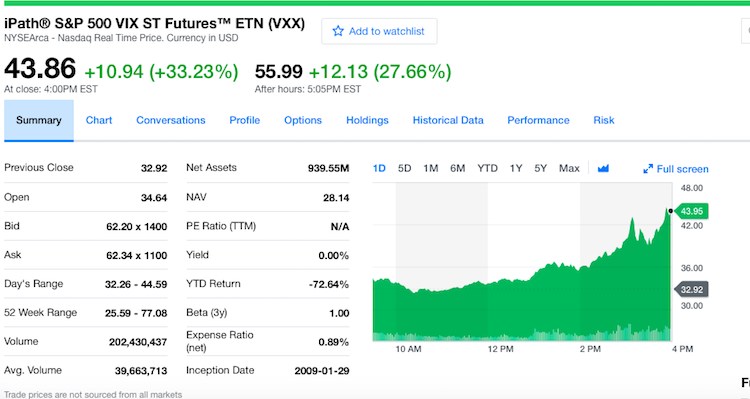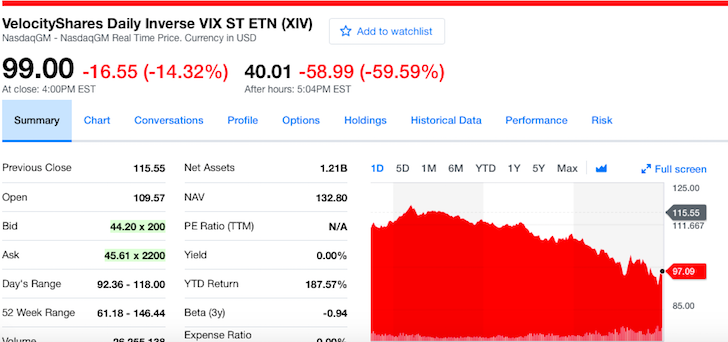 Redpill me on how this is even possible?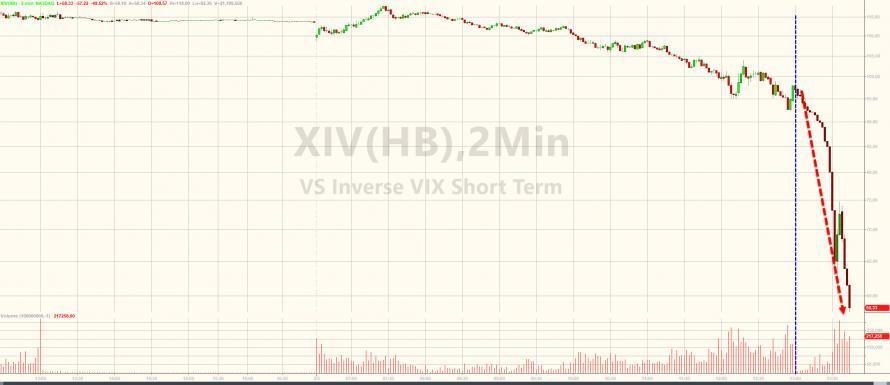 As it stands, this will represent my worst percentage loss of my life — an ironic end to a calm market that knew nothing but upside. The very tool that kept order and emotions in check has dislocated from reality, which could lead to a truly harrowing decline tomorrow.
If you enjoy the content at iBankCoin, please follow us on Twitter