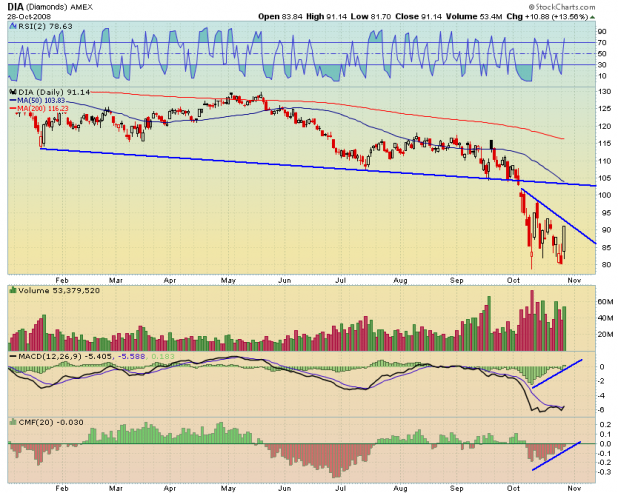 This morning, almost on a whim (I could not remember futures being up throughout the night without selling off into the morning, for many days), I placed a market order for some [[DDM]] . I was not able to check the markets until after 1:00 o'clock, but was reasonably happy with what was going on. I was able to get a glance again at 3:00, and seeing everything look poised for a strong finish, I went ahead and got some [[SSO]] .  The unrealized gains helped after getting blown out of my [[QLD]] and Provident Energy Trust (USA) [[PVX]] on the futures-locked-limit-down morning.
I really want to see some follow through tomorrow.
As for the [[DIA]] , the clear bullish divergence was resolved somewhat as the MACD crossed. Also note the bullish divergence on the Chaikin Money Flow. The July CMF move was much larger than the October move. More on that in a second.
Volume was good. A close above the blue resistance line would be very bullish. I am looking for about 10-12% move here before serious resistance is encountered at the 50 day average.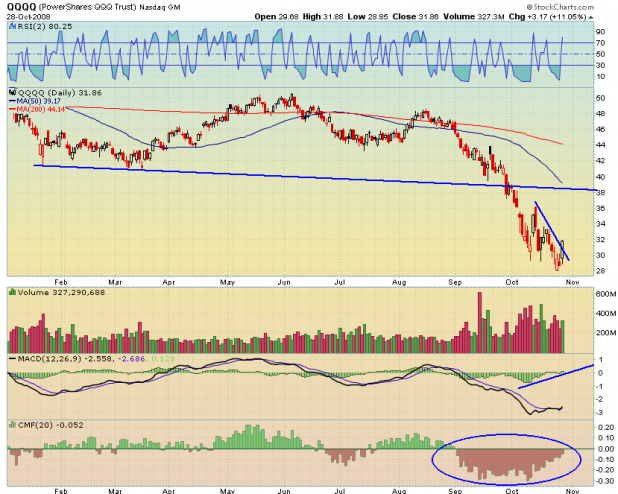 On the [[QQQQ]] , note the large Chaikin Money Flow move in September and October. Compared to the DIA, it appears as if there was a large sector rotation out of tech. Does this mean it will lag the other indices? I do not know.
The Qs managed to close just above the sharply declining blue resistance line. However, this is not an exact science. We really want to see the Qs make an obvious move above any resistance at this level.
Again, there was massive bullish divergence on the MACD. The Qs look as if they could run 15% from here, assuming immediate resistance is cleared.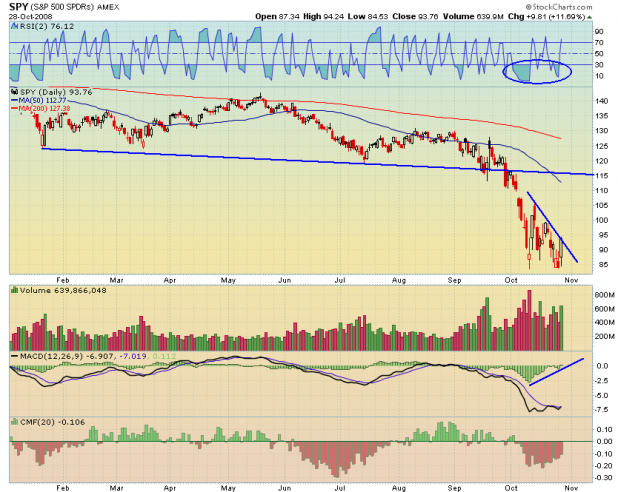 As for the [[SPY]] , pretty much the same analysis as DIA. It needs to clear immediate resistance, quickly.
Similar to the other indexes is the MACD divergence. On SPY, Chaikin Money Flow is also showing a divergence.
Overall, it was a very constructive day. Danny's indicators are showing the most strength in quite some time. I am hoping the markets can put on another impressive performance, Wednesday.
If you enjoy the content at iBankCoin, please follow us on Twitter