We are entering historic territory with the S&P 500 closing for the 12th consecutive day above its upper Bollinger Band (50,2). This has only happened 25 times since 1928. When the market reaches historic extremes, it is ordinary to wonder what it all means. Let's take a look.
The Rules:
Buy $SPX at the close after 12 consecutive closes above its upper Bollinger Band (50,2).
Sell $SPX at the close X days later.
No commissions or slippage included.
$SPX history starts in 1928.
The Results: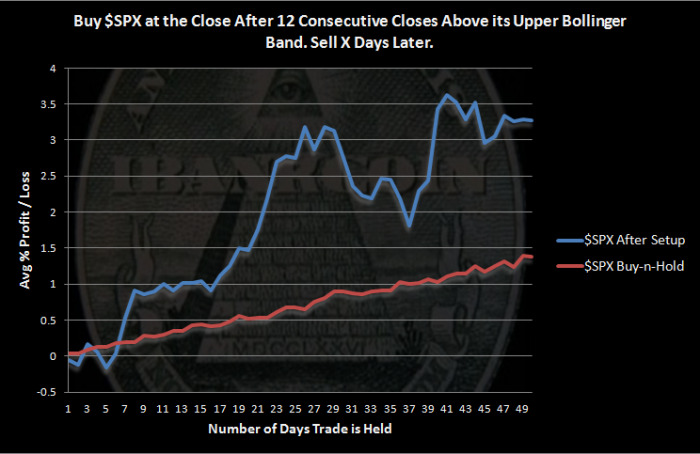 With only 25 samples, we should be careful about drawing conclusions from these results.
If we ignore the amount of time this rally has persisted and only consider the number of consecutive closes above the upper Bollinger Band, we see that in the past the rally has been able to continue.
The $SPX buy-n-hold results were created by cutting the history into 50 day segments and then averaging those segments together.
For those who might be interested in digging a little deeper into this setup, I've posted below all the previous instances.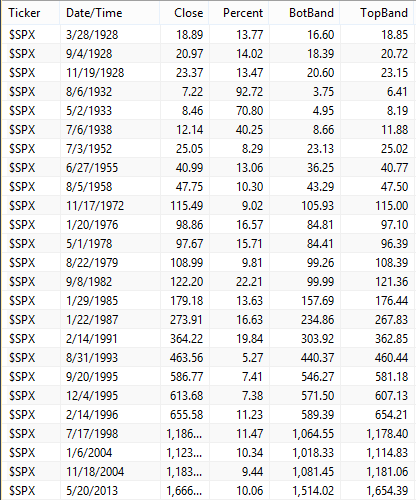 If you enjoy the content at iBankCoin, please follow us on Twitter