After seeing $SPY run up to the 50 day average and then reverse, I was feeling pretty good about my expectation that the correction would continue. Then I read the Quantifiable Edges study, Why The Strong Breadth The Last 3 Days Should Be Viewed Positively By Bulls, posted in What I'm Reading This Weekend. 
After seeing Hanna's breadth results, I'm very curious about what the results of this study will be. As I'm writing this, I still do not know.
The Rules:
Buy $SPY at the close after 3 consecutive higher closes AND the close is beneath the 50 day simple moving average
Sell $SPY at the close X days later
No commissions or slippage included
All $SPY history used
The Results: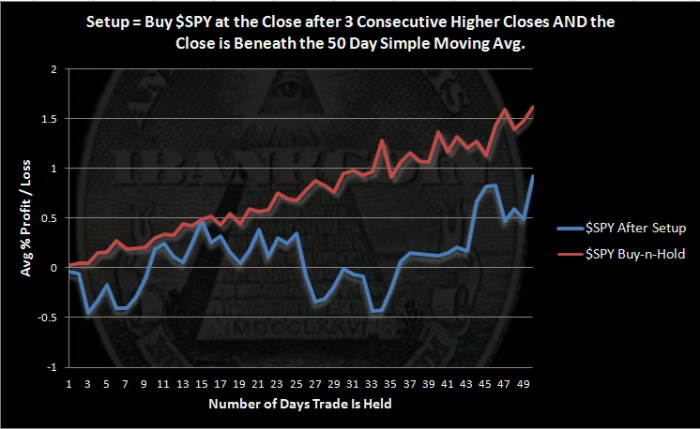 There were 94 occurrences of this setup and 39 trades were able to be held for the full 50 days.
As the chart shows, this setup under-performs $SPY buy and hold. This may be due to the requirement that $SPY close beneath the 50 day moving average. I would call the results of this setup neutral to bearish.
The results posted by Quantifiable Edges are more bullish than my results. I would like to see that breadth study add the condition for the close to be beneath the 50 day average.
I have written many, many times about how hard it is to find a study that yields bearish results. The market has a bias to the upside, and study after study shows the bias. This study, however, does not. The results, while not earth-shaking, should be viewed as a caution signal. My interpretation is that we can expect more volatility, more up and down, while ultimately moving sideways, for at least a few weeks.
If you enjoy the content at iBankCoin, please follow us on Twitter