The markets move both ways. I view extended moves that happen in one direction, a la June and early July, as anomalies. What makes that type of move odd is that there were really no herky-jerky type spikes and pullbacks–just a straight move down.
What I'm looking for the rest of this week is a spike, of the herky-jerky type, if you will.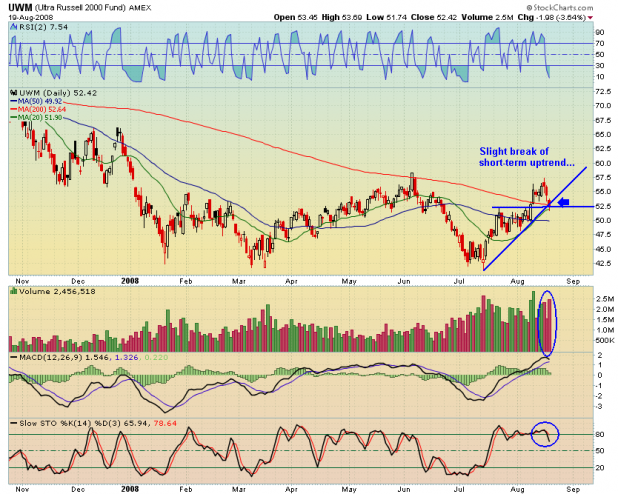 The Russell 2K, represented here with the [[UWM]] is short-term oversold and is sitting right at 3 levels of support: 20 &Â 200 Day Moving Averages, the Uptrend Line, and Support above July and August resistance. The 50 day moving average is sitting a couple of points beneath Tuesday's close. Due to these factors, I'm looking for a bounce.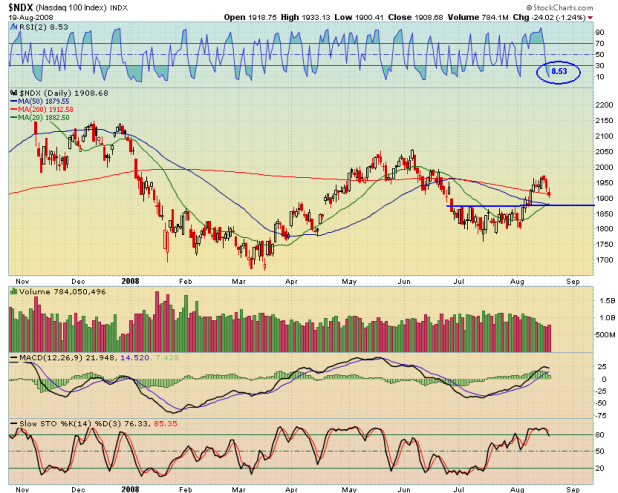 All eyes have been on the Nasdaq 100, over the past month or so. Similar to UWM, the NDX is sitting near multiple levels of support. It is short-term oversold.
Note the 20 day average is crossing above the 50 day average. More on that in a later post.
For this type of set-up, where I'm looking for a short-term bounce from oversold conditions, I want to buy strong stocks that have pulled back, holding them for a week or less, and cutting them loose quickly if they move against me. The following list encompasses the type of stocks I like for this setup.
National Semiconductor Corporation [[NSM]]
Adobe Systems Incorporated [[ADBE]]
The TJX Companies, Inc. [[TJX]]
Atheros Communications, Inc. [[ATHR]]
Red Hat, Inc. [[RHT]]
Concur Technologies, Inc. [[CNQR]]
Thoratec Corporation [[THOR]]
Immucor, Inc. [[BLUD]]
CSG Systems International, Inc. [[CSGS]]
Acxiom Corporation [[ACXM]]
CONMED Corporation [[CNMD]]
Greenfield Online, Inc. [[SRVY]]
National Instruments Corp [[NATI]]
Veeco Instruments Inc. [[VECO]]
 
If you enjoy the content at iBankCoin, please follow us on Twitter