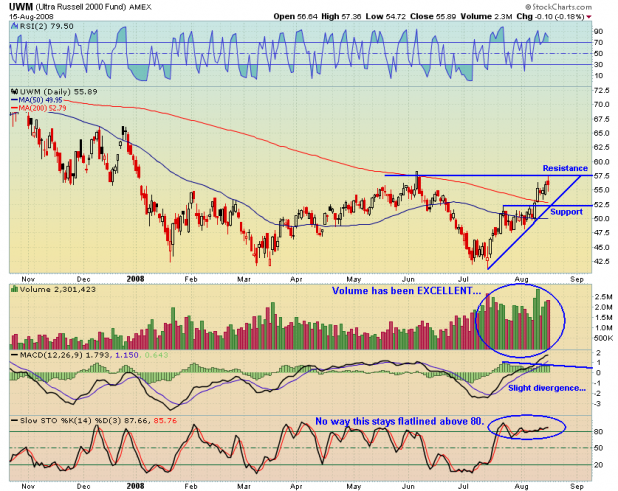 The Russell 2000 has been ripping higher, but has now reached a rather obvious point of resistance at the June high. The current trajectory is unsustainable and will be checked again soon. I'm looking for a pullback to at least $52.50
Some things to note about the [[UWM]] : Volume on the move off the bottom has been absolutely awesome. There has been some serious accumulation going on.
MACD is still strong, but is showing a slight divergence. I expect it to start rolling over. Along the same lines, the Stochastics are due to spend some time beneath 80.
What I am watching for is a break of the uptrend line, which started from the July low. A break of the line will mean the trajectory is slowing.
I ran a test tonight on the IUX, going back to 1994. A buy signal was generated when the Russell closed above the 200 day, and a sell was generated when it closed beneath the 200 day average. The average losing trade lasted 7.65 days. As this system would have had you in the Russell for 5 days now, if the index does not reverse back beneath the average, sometime this week, it is likely that it will remain above it for the next 4 months, on average.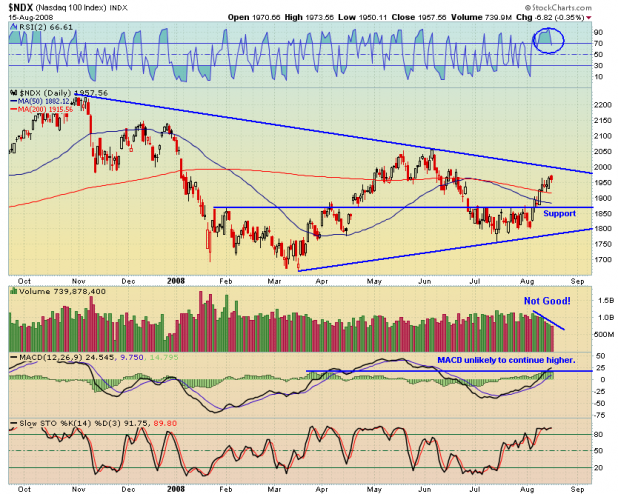 Up next is the NDX, which is the Nadaq 100 index. This one has also been strong, although it is showing signs that momentum may soon slow.
The NDX is approaching primary resistance, extending from the October 2007 high. As a contrast to UWM, volume has been slowing on the move up, which is never good.
The MACD is at a level where a reversal typically occurs, and RSI(2) has carved out an extended, albeit short-term, top.
I ran another test tonight, on the NDX, going back to 1985. The buy signal was a close above the 200 day moving average and the sell signal was a close below the average. The average losing trade lasted 10 days, while the average winner lasted 147 days. As the NDX has closed above the 200 day average for 5 days, we should watch closely to see what happens over the next week. Should the index remain above the average, I will consider the possibility of a multi-month bottom being in place.
I am still leaning long, and will continue to buy both breakouts and weakness in strong stocks. However, I will enter some double inverses tomorrow to play the downside that I am expecting.
If you enjoy the content at iBankCoin, please follow us on Twitter