I've been stressed, distracted, and overly focused on getting prepped for a move. While blogging here, I am trying to piece out fragments of a market narrative, trade ideas, and the usual daily therapy for my readers.
As I've said, I do believe that the market narrative starts to speak a bit louder in the coming weeks. For all the reasons I've mentioned, but most importantly because the mood I warned about is starting to spread just a little bit.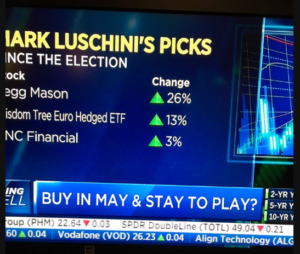 At the last couple boot camp's, I tried to anticipate what the first market pullback might look like. I said that the first couple "dips" would be 1-2%. They have been just that.
I also talked about an April to early May rally that would need to suck in traders at high prices. I think we're seeing that to an extent right now.
I also talked about "Sell in May and Go Away." My take on this is that people will make that remark in years where the market has been more difficult. They don't talk about leaving in May during the good years.
If people are deciding to stay and play, we might get our first good "woosh" of the year. Nothing to crazy…but enough to kick these late buyers out.
The structure overall still says we're heading much higher over many months to a year, but I'm already looking to adjust strategy starting in 1-2 weeks.
OA
If you enjoy the content at iBankCoin, please follow us on Twitter