I ended the day up 1.88%.
Silver's continued rebound was, interestingly enough, not even in the top three gaining positions in my portfolio today.  It barely outperformed AEC.
In ascending order, my biggest gains came from:
MGM: +1.84%
CLP: +2.16%
WNR: 3.15%
And the biggest gainer today in my portfolio is…
AWK: +3.27%
That's right, a water utility company already paying me 4% a year in dividends was up more than any other position I own today.
Allow us to a take a trip together, down the hollowed corridors of memory.
In this post above, I distinctly detailed out my new rotation and succinctly tried to explain why I was interested in the places I was.
And actually, I better laid out the advantage of switching over to utilities at the beginning of the year, back when I was posting in the Peanut Gallery. 
Utilities Will Be The New Municipal Bonds
Although I was very specific about municipal debt being rolled over into the utility sector, I unintentionally hit the broader point then: money at risk needs somewhere to go.  I reiterated several times after then, utilities are cheap, for how stable they are.
Today, massive quantities of money found utilities, AWK included (I would say especially, it was a front runner).  Why do you suppose that is?
I'll give you a hint; the answer has more to do with where you don't want to put your money than where you do.
The recovery in silver and oil not withstanding, things are dangerous right now.  Silver is recovering because men oversold it without thinking.  But I will be out of SLV quickly, once it crosses back to fair value, somewhere north of $40.
It is still the time to be thinking about safe assets.  It is still the time to respect the U.S. dollar.
I'll leave you with a thought:
AWK (1 Year)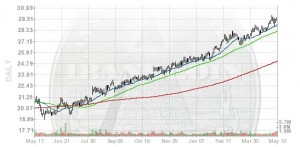 If you enjoy the content at iBankCoin, please follow us on Twitter