Despite giving myself options yesterday as to what I would report on today, I broke those suggestions and went with a plan D. I'd first like to finish up analyzing the residential REIT space so that I can shore up those ideas and leave it at that.
While I have already analyzed a few businesses (and could and will spend plenty of extra time analyzing more), I never really approached the problem from the market's standpoint. My analysis was very specific to individual businesses and why their balance sheets looked attractive.
However, there are some other reasons to like the rental space right now, and I'd like to go into detail.
The story begins where it always begins; with people: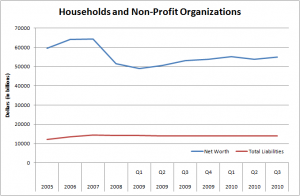 Here we see the net worth of Households and Non-Profits in the United States. Yet notice immediately that while the assets of citizens have fallen dramatically, total liabilities have remained relatively unchanged over the last few years.
Yet, upon digging into the current state of affairs of the average US citizen, we see a very dramatic adaptation occurring: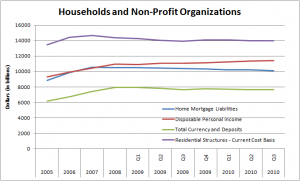 Notice how Home Mortgage Liabilities of households and non-profit corporations in the U.S. have been declining since the height of the housing bubble in 2007? And with reports of record foreclosures last quarter, coupled with still lofty delinquency levels from a year ago and 13.6% of all mortgages past due or in delinquency, I think it's fair to expect that that decline is not from people paying off their mortgages. It's from the foreclosure process unwinding the system.
I also think it fair to expect that number will continue to decline dramatically back to or below 2005 levels.
So, the amount of mortgage related debt held by the consumer is steadily retracing, yet the state of affairs for the average American are no better now than before they entered foreclosure. The debt is not unwinding, it is only being transformed into different kinds of liabilities, and so the picture has not dramatically changed.
However, despite this fairly disheartening occurrence, you can take heart that not all is bad with the US public. Observe that Total Currency and Deposits are still just below their highest level reached in 2008. And, Disposable Personal Income is growing to new all time highs.
Some of this may be a simple product of the slow foreclosure process itself. Someone about to be foreclosed on is very unlikely to continue making payments. And, thanks to the backlog of the foreclosure system, that means that they are free to live in their homes while stowing away money and experiencing the joys of expanded freedom of their earnings.
This off course ties into what is already very well known, as many people before now have commented on the (relatively) high US savings rate: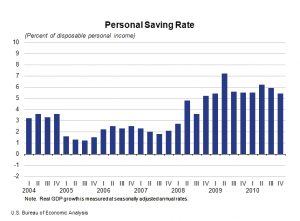 Which brings us to the main point:
People have money to blow, but seem unwilling to spend it on improving their situation; they are still running deep in debt and don't appear to be changing.
They're just hanging out waiting for the inevitable, and socking away cash in the meantime. What are these people going to do in the next few years? While they have more money now than they've had in a long time, the obvious fact that they are not paying off borrowings seems to suggest that their credibility is not about to be improving any time soon.
Needless to say, they are in no position to buy a home. The credit rating of this 13.6% of Americans has been utterly decimated, while there certainly must exist some other percentage of Americans who managed to unwind their mortgages through sales before actually going into foreclosure; these other people, while free of the burden, are certainly not home free.
And, I also don't think that position is going to be changing very quickly. Consider the new increased requirements for attaining mortgages – we as a country are back to the "20% down" rule. And that's if you can get a mortgage at all.
I dare you to try to get a mortgage to purchase a home in, oh…let's say Florida. Go ahead. Try it.
Call up your bank and ask for a mortgage to buy a condominium in Florida. I know the outcome to this because I know a couple who have tried very recently.
You don't have to wait for the person on the other end of the line to stop laughing before you hang up…
The number I'm hearing thrown around is "Five," – as in, "five years before the mortgage rut can get processed back to traditional levels. And that, in my book, means at least 2-3 more years of strict mortgage standards.
So how many Americans would you guess have below acceptable credit scores right now, have no chance of getting into a new house, and a pocket full of cash?
I'm thinking it's a lot. Maybe anywhere from 15-20%, not counting poor renters of course…
So what are these people going to be doing? Well, they have two options. Since they can't own a home, they can either move back in with family (a return to the tradition family, anyone?) or, they can rent.
Come on, who really thinks the first option is going to be chosen? This is America we're talking about. People here value their independence and love to measure their happiness in quantities of success greater than their neighbors.
As to their independence, I'm already seeing rental vacancy rates collapse across the country as demand swamps existing supply: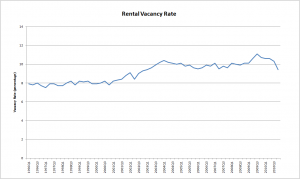 I've already said as much in the few REITs I analyzed. AEC, remember, actually has existing rental rates at over 95% capacity, and are expanding aggressively to accommodate the needs of consumers.
The compliment to this graph is the homeownership rate: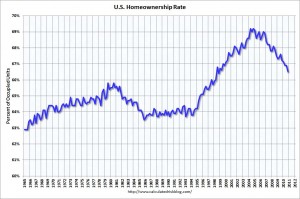 (chart from Calculated Risk Blog).
However, while rental units have been swallowed up, renting, as of right now, has not by any means become expensive. The increased rent rates associated with classical economics have yet to materialize.
We can see this as apparent by looking at this data set: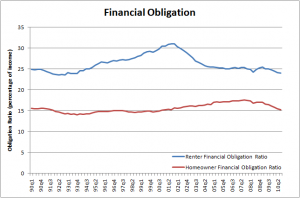 This graph shows the percentage of income which goes to homeownership and renting, respectively.
Ignore the spread between homeownership and renting; I included homeownership only to spur conversation and because I felt it was somewhat obligatory. This data, however, is pathetically biased against renting, as the data only includes fixed contributions. In the case of renting, it includes all associated expenses. However, in the case of homeownership, it only includes mortgage debt, homeowner's insurance, property taxes, consumer debt, and automobile leases.
Notice anything missing? How about maintenance and one item expenses?
The last time I checked the spread between renting and homeownership narrows considerably when the hot water heater blows a valve and suddenly you have to drop $500-1000 on a new one.
Or when you discover that because the valve blew, you have water damage in your floor and need to replace the wood cross beams and the now deformed tile…
Or when you discover from replacing the wood beams that your crawl space was inadequately heated and you have a burst pipe…
Or…
But getting back on track, refer back to the graph above that the spread between homeownership and renting has been fairly well maintained…with the mark exception of the 90's. For whatever reason, during the 90's obligations in the form of renting grew away from homeownership.
This could be because landlords were raising rates thanks to the lowered homeownership rates. Towards the second half of the 90's, the ability of higher grossing residents leaving in flocks to buy their own homes may have exacerbated the issue.
Yet, they closed back sharply at the turn of the millennium.
Why did this happen? It could have been that legislation put pressure on renting rates. However, renting is a state issue, and as such, the idea that patchwork legislation could create such a uniform adjustment seems preposterous. And, I'm not identifying any big legislative movements around the time period. In fact, since the 80's, little has been done to affect renting; rather, much of renting was returned to free market principles.
Only as recently as 2009 has the likes of Albany moved to control rent increases. That's all I have found so far. (As a side note, this site is funny, although perhaps not trust worthy).
So I think the most likely reason was that the housing bubble itself forced rental rates to be as competitive as possible.
But, referring to our previous information, we see now a break in this trend. People are beginning to rent as never before. Indeed, they have no choice.
The median salary in the US in 2008 was $52,029. The mean liability of a US household was about $40,000. And the median value of a home in the US was about $120,000.
Consider a few case examples of different ages, which fit our financial situation (we're assuming that people who are defaulting have similar balance sheets in terms of liabilities, which may or may not be true):
25-30: presumably below the median salary, which means they have less than $6000 saved up. It also means that they won't be able to pay down debt as fast. So, with and income of less than $52,000, and savings of less than $6000, in order to by a middle statistic house in the US, they are going to need to spend more than 6 years, plus whatever time it takes to get their liabilities under control, in order to get the $24,000 needed to make a down payment on a home. By that time, I can guarantee anyone who is 30 won't be able to secure a 30 year mortgage, and even the ability of some 25 year olds to get the money they need before then, as things are now, looks questionable. Some percentage of those who can't get a 30 year mortgage will get a 25. Some percentage of those who can't get a 25 will get a 20…and some percentage of those will go to a 15…and so on. But, you see, some slim percentage of even this young age bracket will theoretically be unable to secure a mortgage and will therefore never own a house.
31-40: I'd say this is the key bracket. The 31-35 year olds would normally be getting a 30 year mortgage. But, because of the current state of affairs, none of them will be able to secure those lower payments. Even the youngest 31 year olds, as similar to the 30 year olds before, are already too far behind. Those who can save up and tend to their liabilities before 40 will manage to get less manageable 25 year mortgages. But if you're around 40 and are presently caught up in the foreclosure process, your only chance is to catch the 20-15 year mortgages by the time you're between 45 and 50.
45-50: Let's be serious. If you're 45, you're probably making more than the median income. If you're making more than the median income and are still caught up in this, there is no way in hell you'll have your affairs in order by the time you're 50 so that you can buy a home with a mortgage you can pay off before you're 65. And if you're older than 45, you're already too late. Most of you will never own a home.
50+: You are never owning a home.
So what you should be seeing is that for the next 5 years or so, renting is going to be abnormally high, as people try to get their credit worthiness in order. But, even after that, many people will be forced to rent for at least a decade. Realistically, this event has taken homeownership completely off the table for any prospective owner older than the age of 45, and for many people in their 30's who have already failed at homeownership once.
Of that 13.6% who are currently winding through the process, only those who are the youngest are really going to get a second chance. But, most people in foreclosure right now aren't that young. They were the people who in the early part of last decade jumped into the housing fray.
What all of this means to me is the creation of a new class in America; the Renting Class. However, just because they are renting doesn't mean they are poor. In 2009, 14.3% of people were living in poverty and, presumably, renting. That means that of the 32-33% of people renting, about 19% of them were doing so without poverty. Since then, an additional 1% of Americans have taken up renting. On average, it has to be assumed that these people have higher incomes and more savings, as discussed at the beginning of this paper.
How many people will be renting in the coming decade? That depends on your interpretation of the 13.6% in delinquency and foreclosure.
If you feel that only 5% of these people will be forced to rent permanently, then in ten years time perhaps more than 38% of all Americans will be renting.
If you feel that 10% is a more accurate number, then you're probably looking at more than 43% of all Americans renting ten years from now.
Such a move would put American homeownership at roughly 57%, already an unprecedented achievement, lower than any time since 1965.
Whatever the exact outcome, we in this country definitely have a large number of renters who:
• Do not seem interested in paying down their liabilities
• Have rising income
• Have short term record savings
• Have valued their independence and will not want to return to the traditional coalesced family unit.
It is for these reasons that I expect rental vacancy rates to at least return to the 8% level of before 2000. Since many existing residential REITs are already below that, you can also anticipate that their operations will be expanding in the next coming months and years.
Unfortunately, as shown in the second exhibit, but the Current Cost Basis of Residential Structures, building a home has not become that much cheaper – only dropping by about 10%. As such, most REIT operations which specialize in building, as well as any other construction company, will probably continue to lag the market for some time.
The coming years will be remembered as the transitioning of existing, distressed properties from independent home ownership into rental units. Those who perform the best will be those companies who are right now acquiring properties cheap. Again, I like AEC for this reason.
And all companies with a large existing rental division will continue to do well. The best of those will be the ones who understand the need to update existing properties to be as accommodating and conventional as possible.
That was my second point, when I said, "This is America we're talking about. People here value their independence and love to measure their happiness in quantities of success greater than their neighbors." If "keeping up with the Smith's home" is no longer feasible, then it will shift to "keeping up with the McSmith's rental unit."
Companies that are currently pouring money into their existing operations to expand their size and make them more comfortable will continue to enjoy the high occupancy rates that are just now getting under way. Think CLP…
And, all of those companies, whether counting existing operations or soon-to-be operations from expanding, are going to enjoy much higher rent rates.
Renting comprised more than 25% of income during the early 90's right when home ownership was in a low point. While much of the rise to above 30% of income is certainly an issue of technicality, a forceful rise back to the demand driven high of '95 is not out of the question. Perhaps it will go to around 27% of income, as the new renting class attempts to secure the best units.
If the rush is as large as I expect, temporarily forcing the rental vacancy rate below 8% nationwide, then we could very well see a push above 30% of income driven by demand alone.
And that spike, backed by a consumer with greater disposable income and facilitated by no-quite-sufficient savings, will make sound residential REITs one of the best investments for this decade.
If you enjoy the content at iBankCoin, please follow us on Twitter