Courtesy of Stocklabs, these are the best performing industries the past month. Much to my surprise nuclear is #3. Solar is #1 thanks to government tit and the rest of them are semis, industrials and plays on par with the world not ending.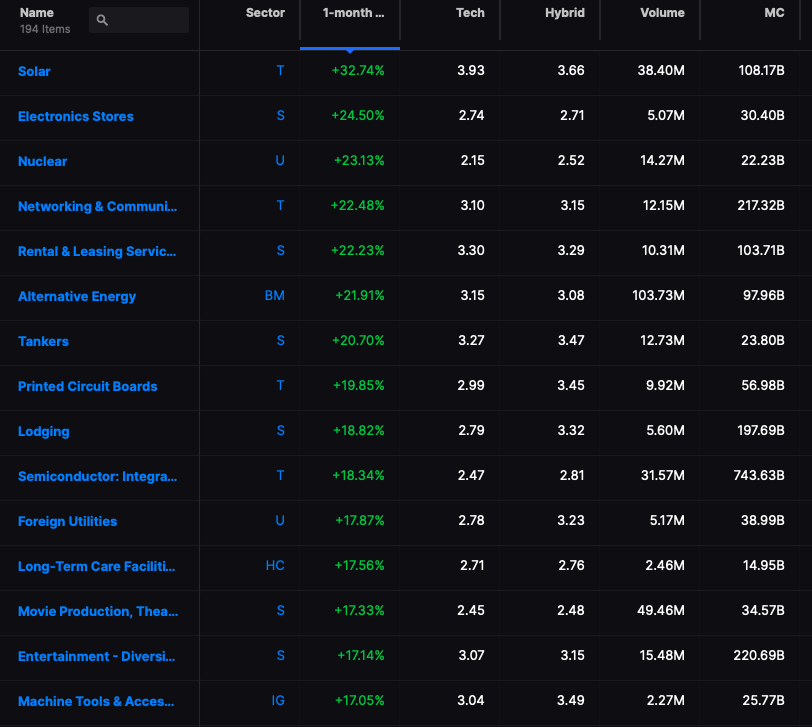 On the other side of that trade are Chinese stocks, healthcare, and defensive areas of the market. In short, it's a fucking risk on trade.
The best news wasn't the CPI data, but the internet advertising data out of TTD last night. It actually conflicted with prior reports of SNAP and PINS, but suggests business has not dropped off a cliff, providing reasons to be long META.
Do you remain long after today's rally?
Nothing has changed from yesterday to today, other than a rigged CPI number and oil drawdown number that was fixed by Biden's drawing down of the strategic reserves. There is a very important war being waged now and it's not only against Russia and China's influence in Asia — but against inflation here at home — because the monsters need to perform pretend democracy this November and would prefer if the economy weren't in complete shambles.
The Fed is still gonna hike by 50bps next meeting and this still means slower growth, not faster, and all of the things that go wrong are as plain as day with incompetents running the west. So no, I don't think the market is a good value here  — but I'm not net shorting it either because the bulls are retarded and running rampant now.
By Fall, all of this will be in a smoking cinders and the memory of the summer rally will be nothing more than a dream that came and went and barely could be remembered.
If you enjoy the content at iBankCoin, please follow us on Twitter