I've changed my mind about HMNY, the holding company for Moviepass who owns 53.7% of the company. Led by one of the co-founders of Netflix, Moviepass is growing very rapidly — boosting subscription levels from 20,000 in September to 400,000 by August. They're expecting to get to 2.5 million by year end.
Why the fuck aren't we buying this ultimate lotto ticket?
This from Credit Suisse:
"The key question for gauging the potential impact of MoviePass on the industry is how much leverage the service may eventually have over theaters to share ticket and concession revenues," Credit Suisse wrote.

Credit Suisse said that MoviePass's business model is based on building up a subscriber base large enough that the startup can eventually go to the movie theaters and ask for a cut of their business.

Credit Suisse thinks that up to about two-thirds of the current movie-goer population in the US could eventually buy a MoviePass subscription, which would equal about 20 million people. If MoviePass can achieve those levels, it would have significant leverage over the theaters, and would likely ask for some cut of the ticket and concession sales.
If the theaters say no, MoviePass could steer its subscribers away from certain theaters by offering discount packages with local businesses, Credit Suisse said. Credit Suisse said MoviePass could offer a discount to a local restaurant if a user goes to an AMC theater instead of a Regal Cinemas theater, for example.

Credit Suisse estimates that 20 million MoviePass subscribers would purchase up to 180 million tickets annually, which would be about 27% of the theaters' total ticket sales. If MoviePass is able to control a third of a theater's business, Credit Suisse thinks that it would have sufficient leverage to ask for a 10% or 20% cut of the theater's ticket and concession sales. A 10% cut could dilute the theaters' earnings before interest, taxes and amortization by up to 6%, according to Credit Suisse's calculations.
Shares plunged today and again in the after hours, as the sentiment shifted and the air was let out of the recent run.

But if history is of any use, this is exactly the time to buy a feverishly exciting momentum stock — when no one else wants it.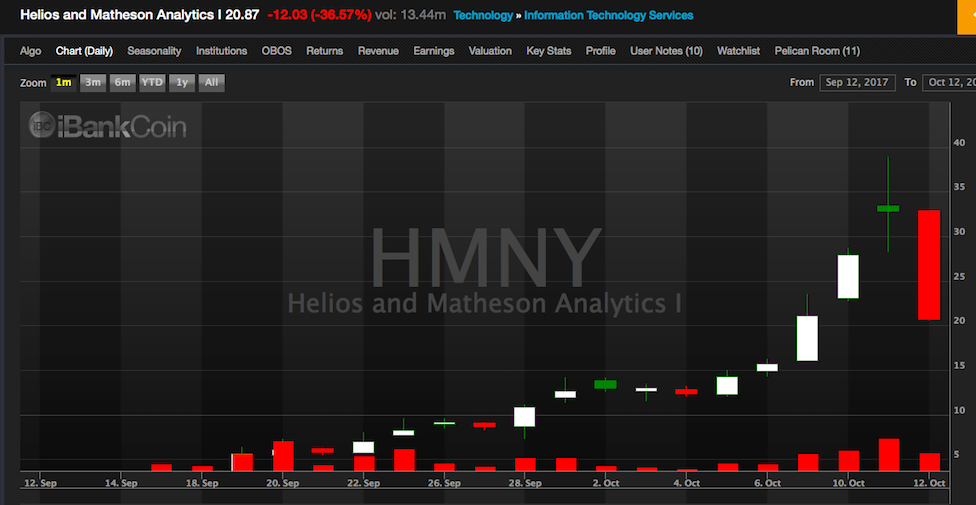 Even Citron covered their short today, knowing that this thing can rip their fucking faces off with indecorous savagery at any moment.
Covering $hmny. Don't like to stay short companies that are expected to lose money high borrow $ hit tgt price in one day. all timing

— Citron Research (@CitronResearch) October 12, 2017
"We knew this going into it with our business model that we would go out there and raise more money for MoviePass and right now I think especially with so much going on with the stock it's a lot of excitement around."

Analysts say a surge in MoviePass subscribers from 20,000 to more than 400,000 between mid-August and mid-September suggested company targets of 2.5 million subscribers next year may prove overly conservative.

Farnsworth declined to give an updated figure for subscriber numbers or the company's targets, but said the numbers using MoviePass every day were now in the tens of thousands.

"We are wide open and more than flexible, but that's our plan right now," Farnsworth said.
The number one risk to Moviepass is a break of apathy amongst cinema goers, causing them to frequent theaters often, stacking up losses on their balance sheet. Like a gym membership, Moviepass is counting on American apathy, seldom visiting theaters, but keeping their plans in place.
The way they win is by greatly affecting theater attendance, which would put them in a position to negotiate better deals with them. Imagine if they could make up 20% of all theater goers. I'd bet the barn they could then negotiate lower expenses for themselves, and possibly squeeze concession royalties too.
At $111 million market cap, you're buying this concept for a song.
If you enjoy the content at iBankCoin, please follow us on Twitter