After all, it was the fake news that won the election for Trump, not the fact that the 'real news' from CNN and others directly caused the deaths of hundreds of thousands of people in the middle east — costing America $6 trillion and counting. It was the fake news that made Americans cast out democratic politicians out of all facets of government — the worst rout since the 1930s — reducing them to the modern version of the whig party — holding just 15 governorships.
Since the mainstream media was unable to fend off the accurate reporting and analysis online, they've weaponized the ghettos of the internet (Twitter, Facebook, Google) to censor sites that disagree with their narrative.
Mark Zuckerberg, big donor to the H. Clinton campaign and avid libtard, has updated us on his progress.
"Normally we wouldn't share specifics about our work in progress, but given the importance of these issues and the amount of interest in this topic, I want to outline some of the projects we already have underway," Zuckerberg said on Facebook. "We need to be careful not to discourage sharing of opinions or mistakenly restricting accurate content. We do not want to be arbiters of truth ourselves, but instead rely on our community and trusted third parties."

Facebook is exploring labeling stories that have been reported as false by third parties or the community so people are warned before they read or share them, Zuckerberg said. The company also is working to make it easier for people to report fake news, and improve technical systems to better detect such articles.

Facebook is also turning outside its own organization for help. It will meet with journalists to understand how they verify information, and is exploring partnerships with third-party fact-checking organizations.

Zuckerberg also noted that fake news was becoming a big business, and said Facebook is looking for ways to disrupt the economics of it.

His remarks come just a few days after he said it was "crazy" to think that fake news on Facebook influenced the outcome of the election. He's also said that more than 99 percent of the stories on Facebook are accurate. But the criticism of his handling of the issue mounted, and by the end of the week, even President Barack Obama was speaking about the negative effect of fake stories on social media.

"Some of these ideas will work well, and some will not," Zuckerberg wrote. "But I want you to know that we have always taken this seriously, we understand how important the issue is for our community and we are committed to getting this right."
source: BBG
In other words, Facebook is looking for ways to demonetize websites that publish news stories that third party organizations, most likely of a very liberal persuasion, believe to be 'fake.'
Related: Zerohedge discussed this in length, regarding a certain 'third party' professor who has done the hard, laborious, task of labeling sites fake. Notice how all of the 'fake news' sites are suspiciously right wing? It's also worth noting, the head of Breitbart is a chief advisor to the President of the United States — the exact opposite of 'fake news' — having such close proximity to the epicenter of power.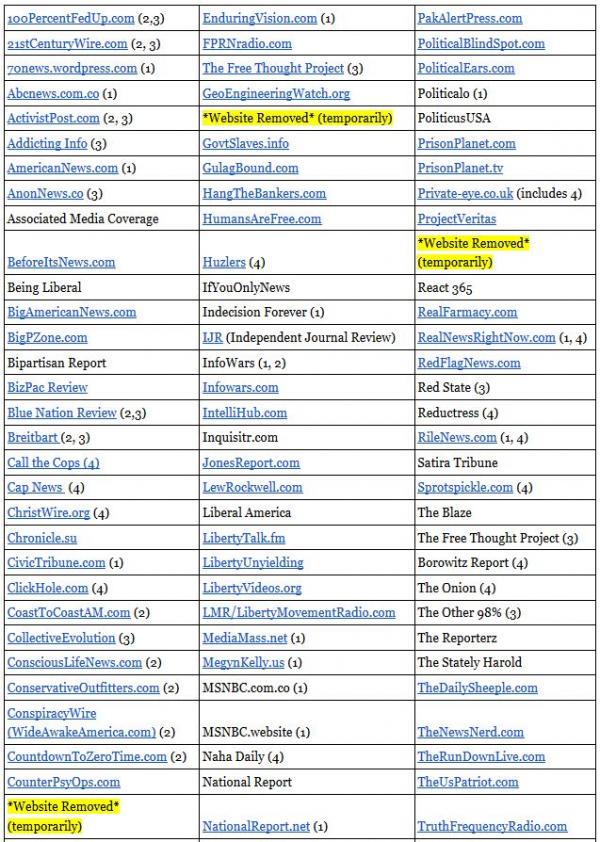 Ron Paul tweeted his own list of 'fake news' list.
REVEALED: The Real Fake News List https://t.co/1CkOSe25LU pic.twitter.com/lqb9Uze1pi

— Ron Paul (@RonPaul) November 19, 2016
Lastly, let's not forget the lessons taught to us by Wikileaks. Here are the news organizations that actively colluded with the Hillary Clinton campaign.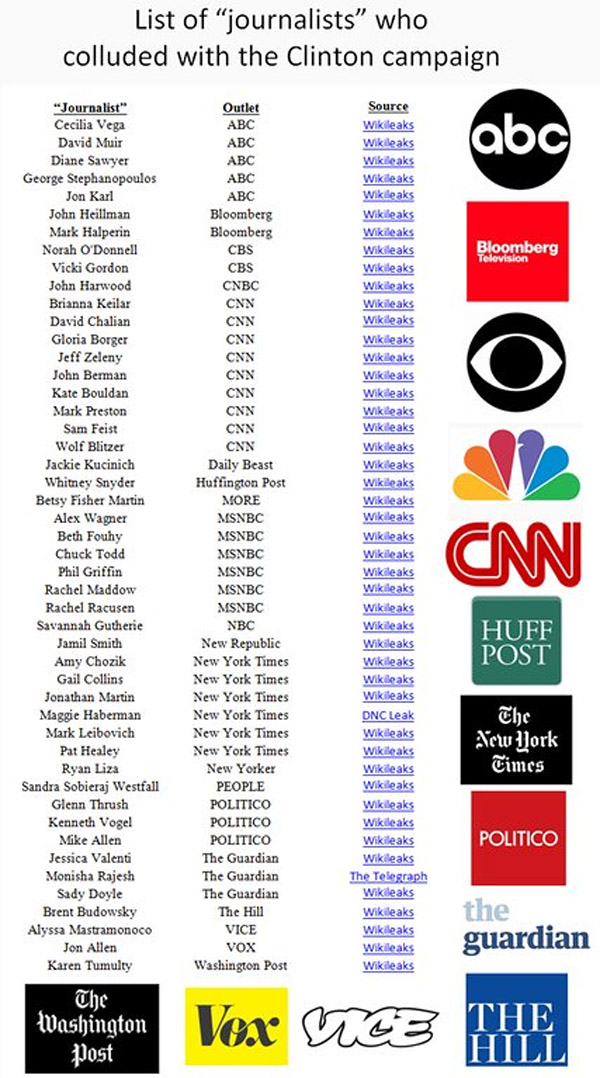 If you enjoy the content at iBankCoin, please follow us on Twitter