I bought $MELA at open because it took out the resistance from early March and I continued to add as price continued to climb.
Take a look at the daily chart below: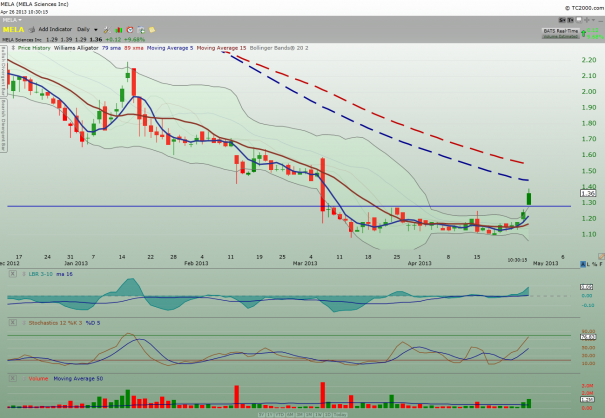 Now, take a look at the weekly chart below: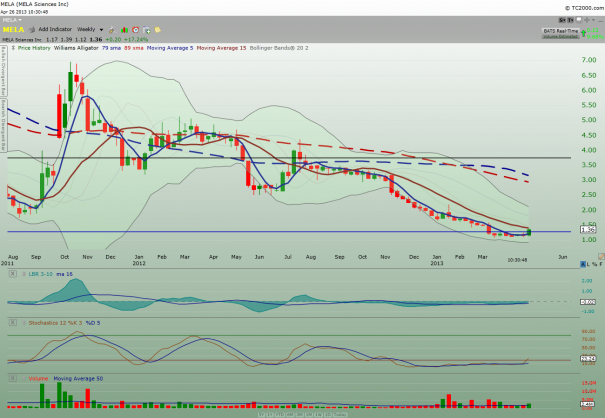 The weekly chart should give you the potential of this movement giving the fundamental of this stock, IMO, is lining up the duck so to speak.
Below is the business profile of $MELA from Yahoo Finance:
MELA Sciences, Inc., a medical device company, designs, develops, and commercializes a non-invasive point-of-care instrument to aid in the detection of melanoma. The company's principal product, MelaFind, consists of a hand-held component that employs high precision optics and multi-spectral illumination; a proprietary database of pigmented skin lesions; and lesion classifiers, which are mathematical algorithms that extract lesion feature information and classify lesions. Its hand-held component emits light of multiple wavelengths to capture digital data from clinically atypical pigmented skin lesions, which is then analyzed utilizing classification algorithms trained on its proprietary database of melanomas and benign lesions to provide information to assist in the management of the patient's disease, including information useful in the decision of whether to biopsy the lesion. MELA Sciences, Inc. offers its product to dermatologists. The company was formerly known as Electro-Optical Sciences, Inc. and changed its name MELA Sciences, Inc. in April 2010. MELA Sciences, Inc. was founded in 1989 and is based in Irvington, New York.
—–
My 2 cents.
This is not a recommendation to buy but simply my documentation of why I bought this stock.
If you enjoy the content at iBankCoin, please follow us on Twitter