Today confirms that yesterday Bullish Harami is not so bullish after all; instead today is a day to play defense.  The Three Inside Down is a candlestick pattern that points to a possible bearish stance.
Take a look at the daily $SPY chart below: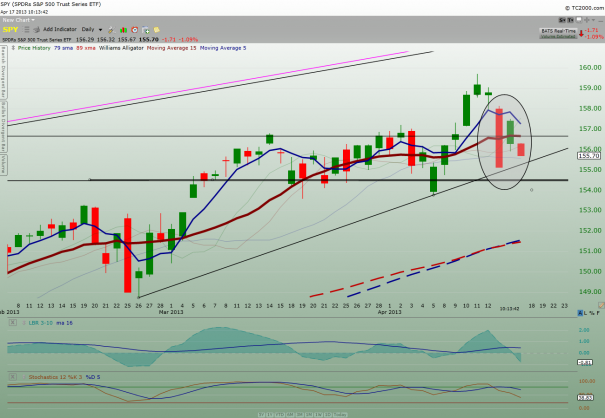 Now take a look at the primer on Three Inside Down below:

BEARISH THREE INSIDE DOWN

| | |
| --- | --- |
| Type: | Reversal |
| Relevance: | Bearish |
| Prior Trend: | Bullish |
| Reliability: | High |
| Confirmation: | Suggested |
| No. of Sticks: | 3 |

Definition:             

Get the highest rated stock from Americanbulls for this pattern >>>

The Bearish Three Inside Down Pattern is another name for the Confirmed Bearish Harami Pattern. The third day confirms the bearish trend reversal.Recognition Criteria:1. Market is characterized by uptrend.
2. We see a Bearish Harami Pattern in the first two days.
3. We then see a black candlestick on the third day with a lower close than the second day.
Explanation:The first two days of this three-day pattern is a Bearish Harami Pattern, and the third day confirms the reversal suggested by Bearish Harami Pattern since it is a black candlestick closing with a new low for the three days.Important Factors:The reliability of this pattern is very high, but still a confirmation in the form of a black candlestick with a lower close or a gap-down is suggested.
***
At this point, a more cautious and defensive stance is warranted for those who are heavily long.
I'm currently sitting on 47% cash.
Be safe!
My 2 cents.
Comments »