I joined The Fly and bought $RBCN because the chart looks good for a breakout run.
Take a look at the $RBCN daily chart below.  Did you see the resistance around $6.78 that goes all the way back in early December 2012?  Price action today took out that resistance and is looking strong to gun for the next resistance at 04/10 high.  The two momentum indicators are pointing up and I've all the technical reasons to give me the confidence to jump in at this level.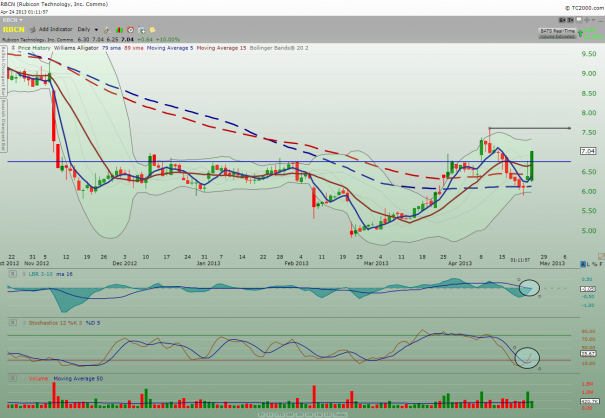 Take a look at the weekly chart below.  I like the strong green weekly bar being developed this week.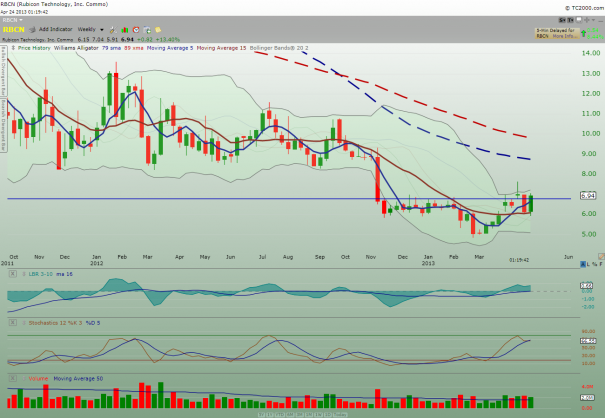 Fundamental speaking, I like the fact that $RBCN manufactures components for the LED lighting industry.
Below is the business profile from Yahoo Finance:
Rubicon Technology, Inc., an electronic materials provider, develops, manufactures, and sells monocrystalline sapphire and other crystalline products for light-emitting diodes (LEDs), radio frequency integrated circuits (RFICs), blue laser diodes, optoelectronics, and other optical applications. The company fabricates sapphire substrates and optical windows from the boules and sells them in core, as-cut, as-ground, and polished categories in two, three, four, six, and eight-inch diameter wafers in C, R, A, and M planar orientations. Its products include six-inch polished sapphire wafers for use in LED applications and in silicon-on-sapphire RFICs; two through four-inch diameter sapphire cores for making wafers for use in LEDs and blue laser diodes; and sapphire products that are used for windows and lenses in military, aerospace, sensor, and other applications. The company also sells optically-polished windows and ground window blanks of sapphire and various fluoride compounds, such as calcium, barium, and magnesium fluoride. Rubicon Technology sells its products directly to customers in Asia, North America, and Europe. The company was incorporated in 2001 and is headquartered in Bensenville, Illinois.
——
My 2 cents.
If you enjoy the content at iBankCoin, please follow us on Twitter