I've been stalking, trading, positioning $SZYM with more headaches than any other stocks I've traded.  Now, I think I'm at a comfortable position with the size I want giving current price action.
Take a look at the daily $SZYM chart below.  Price took out the high of 04/11 and is about to take out the 89xma as well. 5ma crossed over 15ma and the two momentum indicators are pointing up.  On top of all the technical supports for a bullish bouncing stance, my gut/intuition tells me this one is about to take off.  (caveat: my gut/intuition does not possess the property of a divine crystal ball, so take it as a grain of salt please.)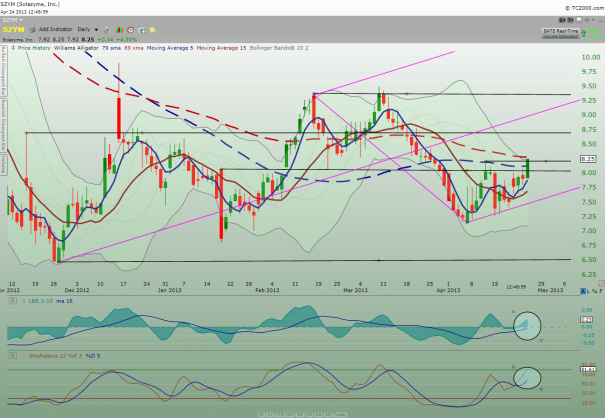 Now, will I be proven wrong again?  From my track record with $SZYM, I've been proven wrong time and time again.  Like a roulette game, after so many red, black should turn up any time now, right?
My 2 cents.
If you enjoy the content at iBankCoin, please follow us on Twitter