Yes, we will get a call from next week to find out if 4/5/2013 low will be a support from today down day.
Take a look at the daily $SPY chart below: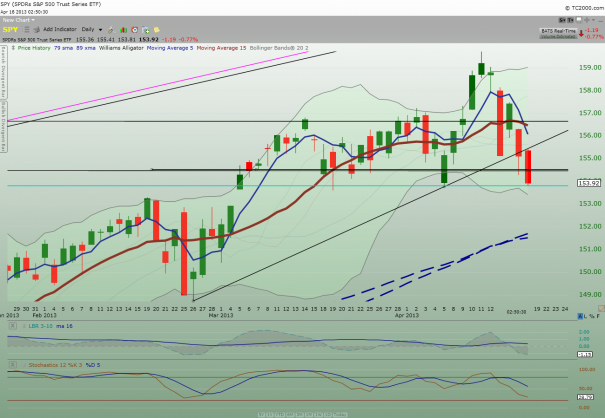 It looks like 4/5 low is holding the ground for now with one hour to go.  Regardless, we will know next week how it will play out.  Meanwhile, I'm not going to sit heavily in stock waiting for judgement call.  I've been downsizing some of my position this morning and my cash is now 60%.
There is really nothing for me to do but to relax and rest.  Sometimes, you need to let the market goes and give it time to "digest".  And it will be much easier to relax if you adjust your portfolio to increase cash.  If you are still heavily invested, some of you are likely to be tense and worrisome which is understandable giving today continuing bear stance.  For those who have a hard time moving from stock to cash: try this exercise, think of $CASH as a stock.  So, you will sell stock $ABC to buy stock $CASH.  That may do the trick.
Be safe.
My 2 cents.
If you enjoy the content at iBankCoin, please follow us on Twitter