Now that the first half of 2017 is in the books, here's a look at the leaderboard for our 2017 Stock of the Year contest: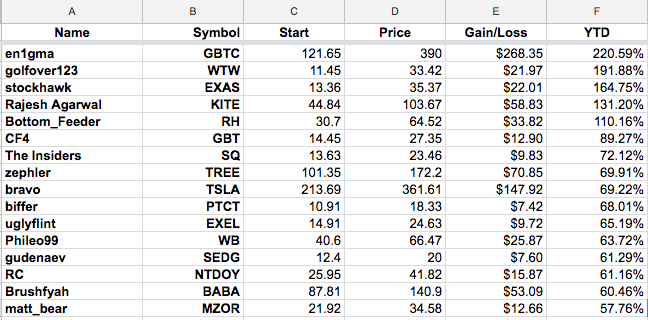 __
Indeud, it's been all about the bitcoin in the first half of 2017 so it's no surprise to see $GBTC on top, but how is Weight Watchers is #2? They haven't died yet? I guess Oprah really is that powerful.
Now take a look at The Cajun with his pick in NTDOY, up a cool 60% in the first half of the year. The difference between me and everyone on this list, is that my pick is the largest position in my portfolio, and has been since coming into the year.
And yes, Nintendo ($NTDOY) still goes higher. I'm calling for $60 by year end. Here is the full contest link: CLICK HERE
If you enjoy the content at iBankCoin, please follow us on Twitter