Category Archives: Sentiment
"In August 1956, the Calder Hall Power Plant in Seascale, England began generating electricity and earned the distinction of being the world's first commercial nuclear power plant. It was a humble beginning for nuclear power; the plant only had a 50-megawatt (MW) output capacity, whereas the smallest US plant today has a 478 MW capacity. Nonetheless, Calder Hall represented the launch of a new era in energy that promised to bring electricity too cheap to meter.
But early on, the promising power source had its detractors. They objected to the high initial cost of constructing nuclear plants, the problems of radioactive waste disposal, and the risks of nuclear accidents and nuclear proliferation.
The detractors had an impact. The heavy regulation they pushed for and the litigation they initiated extended construction times and drove up construction costs. But despite their efforts, over 100 reactors had been placed in service in the United States by 1974.
Then came 1979 and a landmark event – the nuclear accident at Three Mile Island. In the aftermath, public opinion turned solidly in favor of the anti-nuclear movement, several construction projects were canceled, and no new US building permits for nuclear power plants were issued for the next 33 years.
Though the US abandoned nuclear expansion in the 1980s, other countries forged ahead. Worldwide startups peaked in 1984 and 1985, as over 30 plants were brought online in each of those years. However, escalating regulatory and litigation costs and pressure groups were not unique to the US. By the 1980s, it was becoming difficult to cost-justify new projects. On top of all that, the Chernobyl accident occurred in 1986, and the world had its own Three Mile Island moment.
In the 1990s, global startups fell to an annual average of less than six per year; in the first decade of the new century, average annual startups were just over three per year. In fact, since 1990 there have barely been enough startups to offset shutdowns.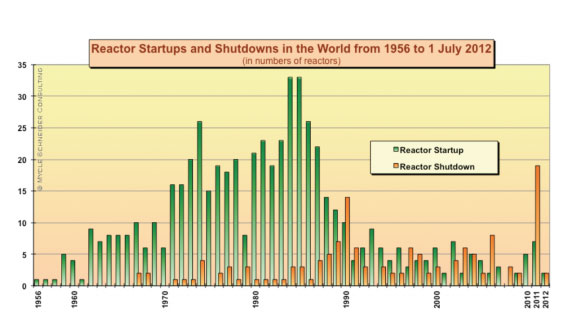 The recent flurry of closures was caused to a great extent by yet another accident. After the earthquake and tsunami in Japan on March 11, 2011 and the ensuing catastrophe at the Fukushima Nuclear Power Plant, several countries began to rethink their nuclear energy policies. In May 2011, Germany announced that it would abandon nuclear energy entirely, shutting down all 17 of its plants by 2022. In June 2011, Italian citizens voted overwhelmingly in favor of a referendum to cancel plans for new reactors. The Japanese Cabinet, though unclear about a specific plan, has issued a white paper calling for less reliance on nuclear power.
So is nuclear on its last legs? It would appear so… but before we make the funeral arrangements, let's take a closer look.
A Nuclear Renaissance…."