Today was a problem-solving day.
Not because I had a problem with the market but because I had to solve a non-market problem that took all my concentration during market hours.  By the time I solved the problem, Holy Moly! there were only 20 minutes left before market close.
$AAPL opened higher and I knew I had to buy some.  The weekly chart show a Bullish Harami and any open higher than Friday close was a buy.  Take a look at the $AAPL weekly chart below.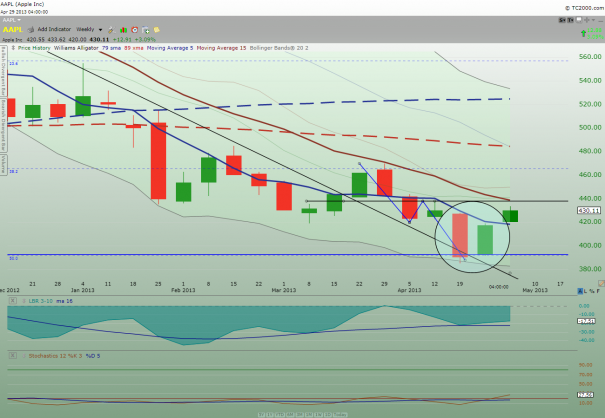 The circle area is the Bullish Harami candlestick pattern. Today price action took out the high of last week bar so the probability of $AAPL bottoming is high. I bought a starter position and left it alone.  Later, when my attention came back to the market near the close, I added more $AAPL.
I also wanted to buy back my $SZYM I sold Friday.  I started to accumulate shares in the morning and then later in the day.  I bought back the size I wanted and is satisfied for the day.  Nevertheless, the spinning top candlestick chart formed today was not exactly an endearing pattern I wanted to see.  Let's see if there is a confirmation for a top tomorrow.  Spinning top needs to be confirmed with down days afterward to considered a top.
$GLUU gapped up but price began to fall during the morning time.  At price got close to the half-way point of Friday bar, I sold to lock in profit.  Later, I went back in for a bounce but it was for naught since I was stopped out for small losses from re-entry point.
$RBCN was heading back up in the morning so I added.  Seeing that price was doing well in the morning, I placed a stop at breakeven not expecting it to be hit.  No!  Price had a bad hiccup and went straight down pretty fast and took out my stop and I didn't even know I was stopped out until half-hour later since I wasn't paying attention to it.  Oh well.  Seeing such volatility, I opted to stay away from $RBCN for now.
$BCRX was acting like it wanted to go up so I bought more.  I added more later to bring it to the position size I wanted.  Prices action went up later so I'm fine for now.
$MELA was having some correction today but I decided to keep my shares since price action hasn't broken thru the $1.27 support line.  $MELA is reporting tomorrow; therefore, I'm basically holding this one thru earnings.
$CERS was showing strength in the morning so I decided to buy a small starter position so I don't forget it.
Not much going on today since I didn't have much time to stay with the market.
Current holdings:
AMRN, LRAD, SZYM, TINY, AAPL, MELA, BCRX, CERS and 32% cash.
My 2 cents.
The trades I made in the journal were time-stamped in twitter
If you enjoy the content at iBankCoin, please follow us on Twitter