Most of you all know that I'm long $AMRN from last year and have to sit through the drawdown all because FDA could not decide on the NCE (new chemical entity) status on the almost pure EPA chemical ingredient in $AMRN's new drug Vascepa.  Month after month of no approval and with $AMRN taking the path to self-distribution of Vascepa instead of going thru the Big Pharmaceutical company, price continued to head south.  It was because I did not average down during the drawdown period that I could tolerate the temporary setback on my long-term position trade.
As in any price movement based on human emotion, there will come a point where a bottom or a top can be called on for a speculative play.  What most people don't realize is that while picking bottom or top can be akin to playing with fire, it is actually a low risk trade if you've done your homework correctly.  Please refer to my past post on the art of catching a falling knife.
Remember this stock market wisdom- Buy low and sell high?
How do you propose to buy low when you are not trying to pick a bottom?
As I mentioned before, the only way I will add to underwater long-term position is when I play the added shares as a swing trade.  Meaning that I will have stops in place to protect myself if price head the wrong way.  These stops are non-negotiable; otherwise, I'll just be kidding myself into averaging down to my core position.
Last Tuesday when $AMRN announced the FDA has accepted its Supplemental New Drug Application (sNDA) seeking approval for the marketing and sale of Vascepa(R) (icosapent ethyl) capsules for use as an adjunct to diet in the treatment of adult patients with high triglycerides (TG >=200 mg/dL, price gapped up but turned around and headed south for a few more days.  I knew then that the bottom was about to set in.   While we won't hear from FDA regarding the approval of this sNDA until Dec of this year, it is considered a game-changer catalyst that can propel $AMRN to be a very attractive take-over target.
There are support level from Dec 2011 low of $5.99 and price last week has dropped down to low of $6.34 before heading back up.  While I didn't buy the swing trade position at the low, I bought them around $6.4x.  The way I see it, the risk/reward for the swing trade is excellent.  My stop was below $5.99 and I'm only risking about $0.45 cent per share for a return that has the potential to be multiple times of the risk.
Below is the weekly $AMRN chart.  Notice that last week bar is a doji.  A doji at the bottom near a support has a high probability of forming a bottom.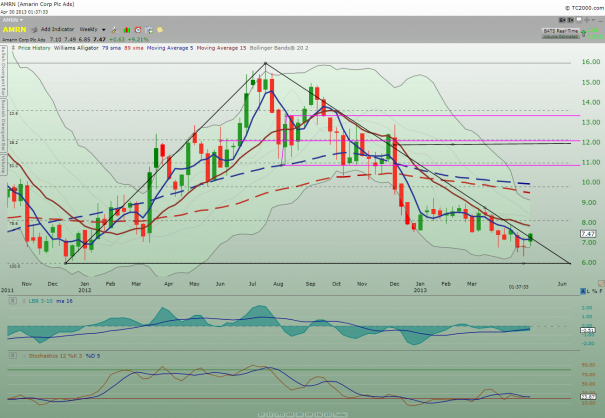 Below is the daily $AMRN chart.  Notice that today price action has penetrated the downtrend bar.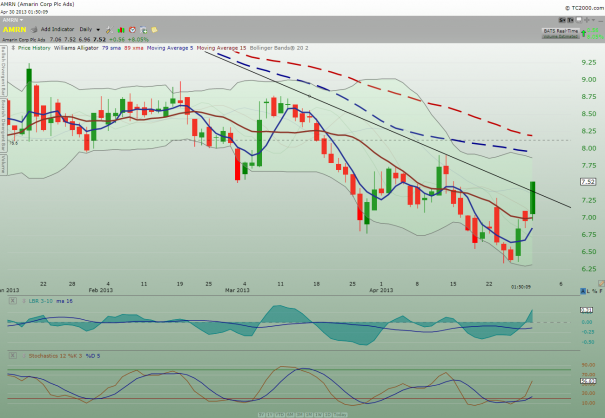 Needless to say, I'm close to double-up my position on $AMRN with my swing trade position.  If price never look back, these swing trade position will become part of my core position.  Perhaps, this drawdown is really a gift in disguise for me…
My 2 cents.
If you enjoy the content at iBankCoin, please follow us on Twitter