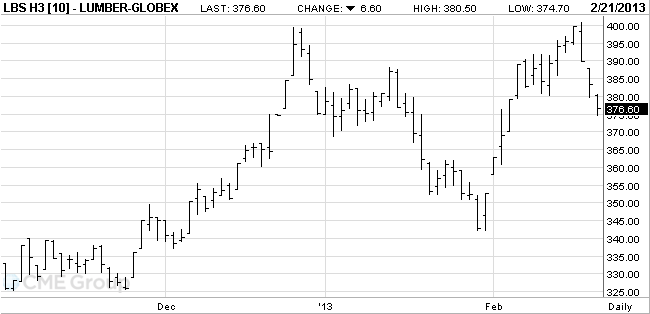 (chart via CME Group)
Above is the chart for Random Length Lumber, taking into account the March 2013 futures contract. Over the past few years, the strength in lumber proved to be a leading indicator for the bullish action we had seen in the homebuilders and, frankly, all housing related stocks.
This week, though, lumber has sold "limit down" and is displaying what could be termed "three black crows," or wildly bearish candles, since Tuesday, rejected away from prior late-2012 highs.
Now, I do not want to overplay this thesis. I already locked in partials gains in my Home Depot short this morning inside 12631, for example. However, I do want to emphasize that if this is a true double-top in lumber then the rejection away from this recent peak should be forceful. It is tough to call an end to such a strong, multi-quarter move in housing and housing-related stocks. But it does seem increasingly reasonable to think they got ahead of themselves for at least the next few weeks.
Watch lumber, and stocks like BECN LL WY for clues, in addition to the homebuilders.
If you enjoy the content at iBankCoin, please follow us on Twitter