Yo Quero Emerging Condiments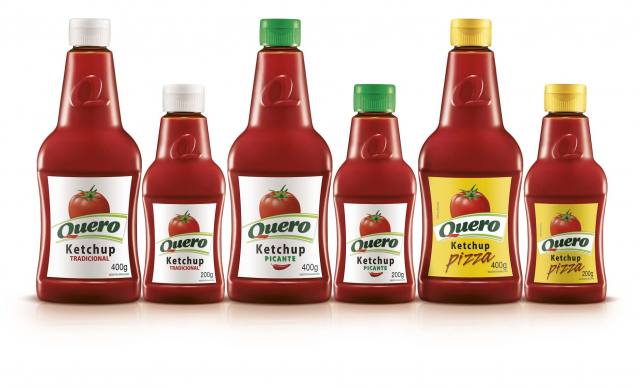 After hearing news of Warren Buffett's Berkshire Hathaway buying all-American ketchup icon Heinz for over $23 billion, the knee-jerk reaction for most is something along the lines of: "The old man, once again, sticks to what he knows–Ketchup. Simple, strong brands and great businesses."
There may very well be truth to that, but as I noted last August in this bullish blog post about the long-term prospects of Heinz:
With Heinz tailoring its product lines specifically towards each major country's tastes and cultures, more so than most consumer product giants, the ability for them to adapt to emerging themes such as "gluten-free," and elimination of high fructose corn syrup is apparent. I like Heinz as a long-term idea as long as $55 can be left in the dust here.
Specifically, the more subtle issue than all-America ketchup here is that the strong emerging market brands may have made Heinz truly appealing for the long-term.
As an example, consider the potent Quero brand (pictured above), which according to Heinz:
The Quero brand holds number one or number two positions in numerous tomato-based categories in Brazil and the leading position in vegetables. From ketchup to canned vegetables, seasonings to sweets, Quero is Brazil's tastiest way to complement any meal.
Recall that Brazil will host the 2014 FIFA World Cup and the 2016 Summer Olympics.
The point is that there are many strong, emerging condiment brands in the Heinz portfolio which could have attracted Buffett beyond making his hamburger and french fries taste more sugary. With this in mind, lurching towards General Mills or Kellogg under the Buffett (or another whale) buyout thesis is likely a mistake.
Instead, the precise thesis would likely be more focused on agile firms who can adapt strong brands to different cultural tastes around the world, which I noted last August.
Congratulations to those of you who bought Heinz last summer for the long-term account based on that post.
Previous Posts by chessNwine
4 Responses to Yo Quero Emerging Condiments
I can only assume you meant "quiero".
"Quero" is Portuguese in which case you should have said "Eu Quero".
Just a short tutorial.
I meant Quero–As a play on words and mish-mash of languages for the thesis discussed above.