HCLP just amended another supply agreement to jack up the amount of sand one of their customers is obligated to buy every month. This is the third one this year.

Per MarketWatch:
Houston, Texas – April 8, 2014 – Hi-Crush Partners LP (NYSE: HCLP), or Hi-Crush, today announced the entry into of an amendment to the supply agreement between Hi-Crush Operating LLC, a subsidiary of Hi-Crush, and FTS International, LLC, or FTSI, a leading provider of well completion services. The amendment significantly increases the number of committed volumes under the agreement, extends the term of the supply agreement and requires FTSI to pay a specified price for a specified minimum volume of frac sand each month. "Hi-Crush is excited to further extend and strengthen our relationship with FTSI by entering into this amendment," said James M. Whipkey, Co-Chief Executive Officer of Hi-Crush. "We consider FTSI a valuable partner as we continue to expand our market presence, and fulfilling our customers' needs is a top priority for Hi-Crush."
And when they say "requires FTSI to pay a specified price for a specified minimum volume of frac sand each month."…question? Do you suppose that would mean a higher "specified price"?
I would suppose it would.
This follows the news yesterday that HCLP was going to have themselves an offering to completely buy out any competing interests in their Augusta facility.
Read here:
Houston, Texas – April 8, 2014 – Hi-Crush Partners LP HCLP +2.31% ("Hi-Crush" or the "Partnership") announced today that it has entered into a contribution agreement with Hi-Crush Proppants LLC (the "Sponsor") to acquire certain equity interests in Hi-Crush Augusta LLC ("Augusta"), the entity that owns the Sponsor's raw frac sand processing facility located in Augusta, Wisconsin. As previously announced, Hi-Crush acquired a preferred interest in Augusta on January 31, 2013.

"We are delighted to announce this acquisition, which we expect to be immediately accretive," said Robert E. Rasmus, Co-Chief Executive Officer of Hi-Crush. "With this transaction, we will double the Partnership's production capacity to 3.2 million tons per year. The Augusta plant has a current capacity of 1.6 million tons of coarse Northern White frac sand per year. Beyond that, we have the capability to expand the Augusta plant by an additional 800,000 tons per year and have started the process to obtain the permits required for this expansion. The expansion will bring total rated capacity at the Partnership to 4 million tons per year. We expect the expanded capacity to come on-line in the second half of 2014."

Under the terms of the transaction, the Partnership will pay cash consideration of $224.25 million. At the closing of the acquisition, the Partnership's preferred equity interest in Augusta (currently providing $3.75 million in distributions per quarter) will be converted into common equity interests in Augusta, and the Partnership will own 98% of Augusta's common equity interests. "We expect that the acquisition of common equity interests in Augusta will contribute more than $30 million of incremental annual EBITDA to the Partnership, before any expansion to the Augusta plant," said Mr. Rasmus. The acquisition is expected to close by mid-May 2014, subject to regulatory approvals and other closing conditions. In connection with the acquisition, Hi-Crush expects to refinance its existing revolving credit facility.
We need to follow the sand. Where the sand goes, the profits will go also. No buyouts – if these guys enter into a cash offer for my units on my behalf, I'm going to blow a gasket.
These moves are going to double HCLP's revenue immediately. That will play into the hand of existing investors as bigger operations allow the executives of HCLP to leverage their logistics operations and gain market share.
I'm not even going to look to see if HCLP is paying top dollar premium on this deal – I'll spare you the time, the answer is "I don't care."
This trend in the economy is only growing. These guys survived Aubrey McClendon blowing up the natural gas sector, and together with targeted well services like BAS, they're going to dominate.
The shares aren't even phased at the announced dilution yesterday to pay for the acquisition. Have a look.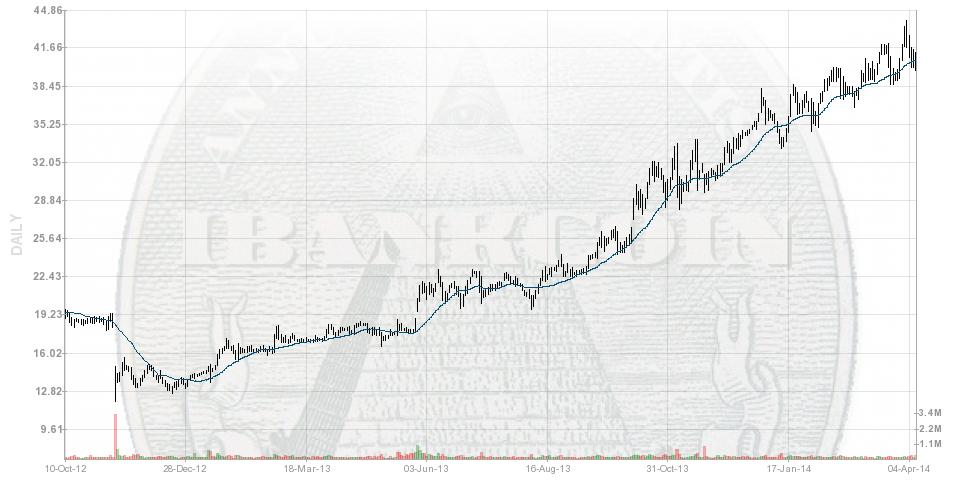 Here's the tagline:
HCLP – This Shit Is Going Higher