Did you catch it?  Hope you did!  We had a number of signals that alerted us for a squeeze.  If you missed my last post on "How to spot a rare day-trading day, how to trade them", then you may want to take a look at it.  Today (Wednesday's relief rally) was another wonderful example of a rare, powerful, and day-tradable squeeze day.  Let's go through those steps:
Step 1:  What is the state of the market (premarket): Market sold off big time on Tuesday on news of bank weakness;  perhaps selling was accelerated by news of new president.  We took out Thursday's lows, so it's NOT a good idea for swing longs ( low probability).  However, leadership sectors still held ground despite selloff.  Noticing strength in school stocks and medical stocks, therefore, as concluded during yesterday's selloff, it was NOT a good idea to enter new swing shorts.  In fact, I issued a "you better hedge your shorts" warning.
Going into the market…
Step 2:  Check volatility- VIX is red!  Reversal from yesterday's test of 55, back under 50 we go.
Step 3:  Find the sector influencing the market and the VIX. Answer:  Banks.  Find the stock or stocks in that sector that dominates investor sentiment.  Answer:  BAC
Step 4: Did banks hit an intraday bottom?  Is stock from step 2 (BAC) squeezing?  Yes.  Probability for squeeze up.
Step 5: Find the intraday "relief point" (check technicals on market).  Got it, near 8000 or 8050! (there was actually a lower "relief point" but, I didn't trust it.  Went for confirmation.  Actually, 8050 was from Agwarner, our old tabbed blogger Adams Options guy.  We both went long FAS).
Step 6: Make the call!  "BAC > 6 = market new highs = FAS new highs"   … FAS was up about 8% when I made the call.

And here's how everything played out…
Vix reversal (Step 2)
Breakout above relief point (technical confirmation; Step 5)
(Step 3, 4)
Same Dow Jones chart, but compared with BAC since that was our stock we were using for direction.  Remember, above 6, market explodes!
The relief point / breakout point again.  Notice the channel that was broken to the upside.  Bears don't like quiet channels, especially after a big down day.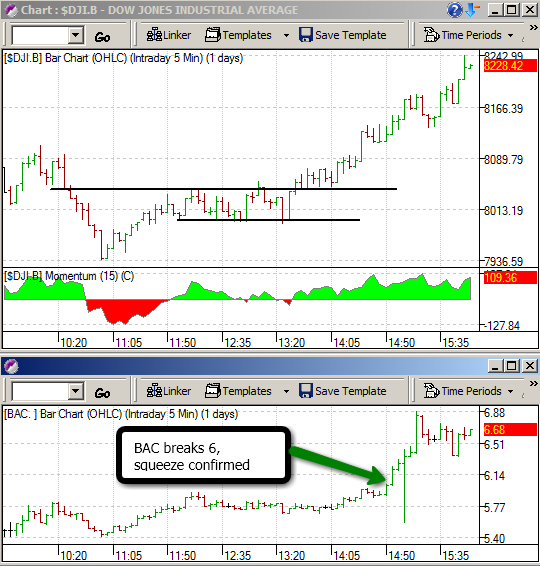 And, make the trade.  I got long FAS, but capped my gains at 5%.  If I let them run, it would have been another nice 15% day.  Once again, "rare day trading days".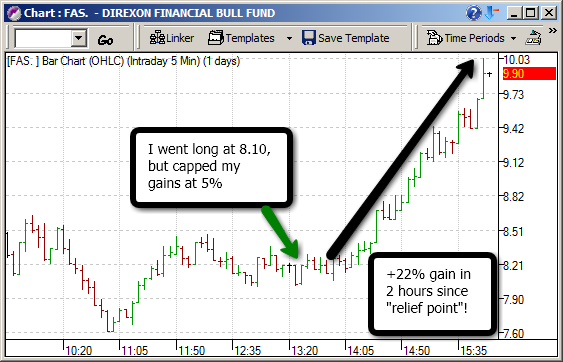 (Step 6)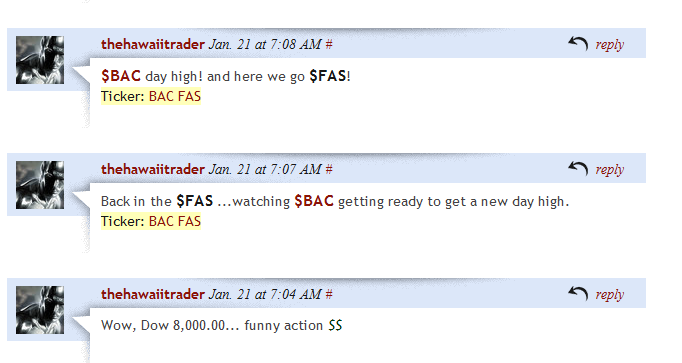 … what a crazy and volatile market!  I warned about not picking a side just yet.  We have to let a few cards come down first before we place bigger bets on the swing trade.
Again, don't worry that you missed an opportunity, or try and force a trade.  The next one is coming to you as we tweet.
Aloha!
-gio-
If you enjoy the content at iBankCoin, please follow us on Twitter